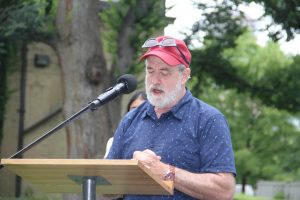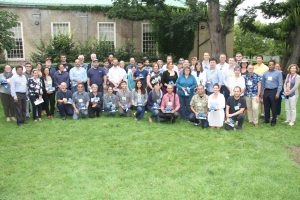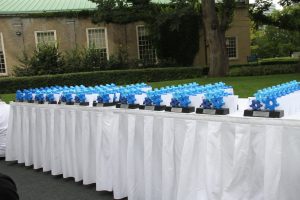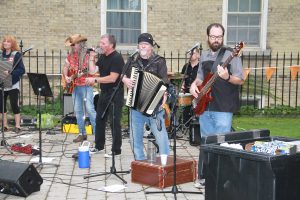 For the fourth year, University Operations team members gathered for the UO Than-Q BBQ & Awards event. To the New Orleans sounds of Loco Zydeco, over 500 staff members enjoyed delicious food – supplied by our very own Food Services culinary team, and cooked up by leads from all UO units.
This is our opportunity to celebrate our entire team, and to honour our often unsung heroes for the great work they do in creatively, efficiently and dedicatedly furthering our mission through our three levels of UO Awards.
Our thanks once again to University College for inviting us back for another year!
Congratulations to all…and read more about your colleagues (and yourselves!) below!
University Operations Annual Staff Achievement Awards Program
The Vice-President University Operations has established the annual Staff Achievement Awards Program in order to recognize exceptional staff contributions to the success of their particular unit, the University Operations portfolio and the University.
The program provides University Operations with an opportunity to thank staff for the valuable work performed throughout the year.
Outstanding Individual Employee Award
Presented to an individual staff member (regardless of length of service) involved in any area of staff work who has made outstanding contributions that go beyond the ordinary fulfillment of the position's duties.
This year's winners:
Luke Sutherland, Information Technology Services
Haroon Rafique, Information Technology Services
Helen Chang,   Planning & Budget
Jenny Cheng,   Planning & Budget
Michal Kuzniar, University Planning Design & Construction
Elizabeth Urbanowski, Ancillary Services
Ryan Dow, Facilities & Services
Sarosh Jamal, Information Technology Services
Matt Wilks, Information Technology Services
Sarah Reid, Academic + Campus Events
Read more about each of our Winners in the 2018 University Operations Outstanding Individual Employee Award citations.
Distinguished Service Award
Presented to an employee with more than 15 years of service at the University who has made outstanding contributions that go beyond the ordinary fulfillment of the position's duties.
This year's winners:
Dave Stade, Facilities & Services
Stanley Czernic, Facilities & Services
Steve Atkinson, Facilities & Services
Paul Readings, Ancillary Services
Read more about each of our Recipients 2018 University Operations Distinguished Service Award citations.
Outstanding Staff Team Award
Presented to two or more staff members who function as a team and who have taken on a time-limited project.
EASI University of Toronto Business Intelligence (UTBI) and Planning & Budget Analytics team
Kelly Raposo
Alexandra Agostino
Anton Kruger
Louise Tardif
Diana Avon
Yuliya Cherevko
Robbie Liang
Andy Chien
Michael Green
Brenda Boshoff
Christine Beckermann
CERN team
Allan Stojanovic
Dave Auclair
O365 team
Ian Thomas
Vicki Vokas
Hong Zhu
Luke Sutherland
Peter Ip
Selena Panchoo
Chloe Payne
Melvin Chien
Maryam Shafiei
Marden Paul
Megan Badley
Waleed Chaudhary
Seth Feldman
Aline Pruvot
SIF Project Managers, Design & Engineering and F&S Staff teams
Keith Foster
Paul Savel
Eric Gadsdon
Sandy Habus
Thomas Elson
Craig Cullen
Latchmie Soondarlal
Michael O'Malley
Christine Tan
Gregory Saldanha
Ted McTavish
Steven Carnevale
Doug Colby
Irfan Miraj
Valeriya Varnavskaya
Jackson Cheung
Karolina Grujic
Jasmin Dvizac
Milan Cerovina
Peter Solu
Gordan Marinkovic
Robbie Suehiro
Graciano Da Ponte
Ben Li
Blair Jurecka
Adrian Phillips
Johnny Terzis
Sean O'Molloy
Carla Munoz
Kian Zehtabchi
Roberta Matarazzo
Wing-See Wu  
 Janis Dombrovskis
 Joanne Peng 
Asbestos Operations team
Elizabeth Church, UT Communications
Kate Enros, Office of the Provost
Leah Scherk, Faculty of Medicine
Irfan Miraj
David Cahalin
Heather Taylor, Faculty of Medicine
Yang Ting Shek, EHS, VP Research & Innovation
Jeremy Knight, Faculty of Medicine
Liam Mitchell, Faculty of Medicine
Read more about our Winners and their innovative projects in the 2018 University Operations Outstanding Staff Team Award citations.
Congratulations to all!
And did we mention great prizes? These were supplied by our own units, and competition was fierce!
Some of the prizes available were:
2 prizes of 1 month free parking or 1 month free TTC card (Transportation) – 1 was already awarded to Lizhen Li of F&S as our Early Bird prize
From Facilities & Servcices:
Steam Plant Tour
Campus Police Ride Along
Travel mugs from the Sustainability Office
Ceramic Mugs
Keychains
Gardening Trowels from Grounds Services
Swiffer WetJets from Caretaking Services
Solar Security Lighting Set
"Special Constable" polo shirts from Campus Police
Classic fire extinguishers from Fire Prevention Services 
And fabulous prizes from Ancillary Services (Trademark Services) featuring:
Branded knapsacks
Baseball hats
Water bottles
Sweatshirt
Blanket
and 10 x $50 Food Services gift cards!
What a great way to end the summer and to start the school year!
Related posts