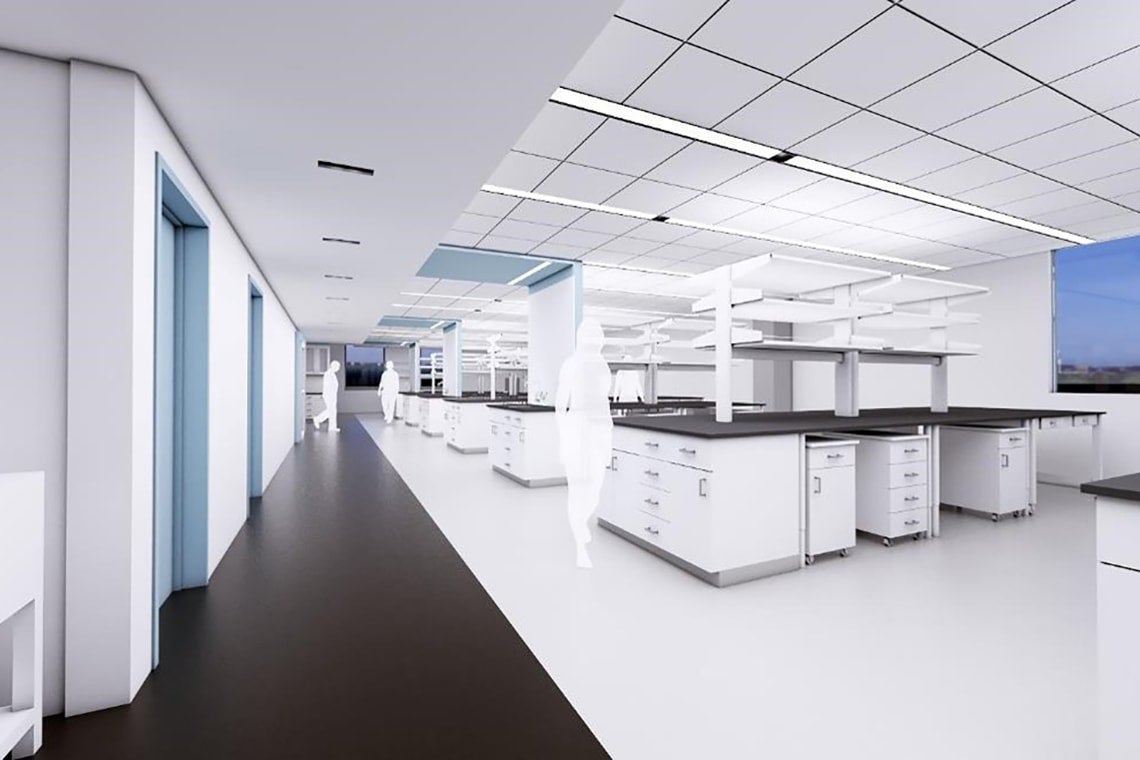 A rendering of the new labs at the Faculty of Dentistry: "The new space will allow for sharing of research and cross-pollination of ideas between researchers," says Dean Daniel Haas (courtesy of Stantec Consulting Ltd.)
More than a year after the announcement of what University of Toronto President Meric Gertlercalled "an historic investment in Canadian science and innovation," U of T's revamped research labs are beginning to take shape.
The announcement of the Lab Innovation for Toronto (LIFT) project was made in July of 2016, with nearly $190 million in funding to upgrade nearly half of U of T's research labs over the next two years. The university is providing $91.8 million, while the federal and provincial governments are contributing $83.7 million and $14.3 million, respectively, for a total of $189.8 million.
The LIFT project affects all three campuses and nine academic divisions. The facilities being renovated include medical, dental, biology, chemistry and engineering labs, as well as a former horse barn north of Toronto now used for ecological research, a green roof on the One Spadina building, an electro-acoustic music studio at the Faculty of Music and many others. In total, 546 labs are being fully renovated, providing state-of-the-art research facilities to an estimated 1,100 researchers and 5,500 students. Many labs at the Faculty of Applied Science & Engineering and the Faculty of Medicine are already near completion.
For U of T's Faculty of Dentistry, the renovation is much-needed.
"The previous lab spaces were small, contained, and limited our faculty's ability to perform, simply due to infrastructure," said Daniel Haas, dean of the Faculty of Dentistry. "The new space will allow for sharing of research and cross-pollination of ideas between researchers. It will help our faculty to capitalize on their potential and allow us to sustain excellence. But it will also extend our multi-disciplinary focus to better solve clinical problems."
Dentistry's primary building opened 58 years ago in 1959, and a number of the faculty's researchers have been working out of a facility built in 1927. The two-phase renovation project is currently underway, with phase one wrapping up and phase two commencing in the new year. With two floors being entirely redone, the Faculty of Dentistry building will have new labs, classroom space, meeting rooms and offices.
Before:
The old Faculty of Dentistry labs were isolated, had poor lighting and required equipment for every room (photo by Laura Pedersen)
After:
Move-in has begun in the renovated, bright labs that are open concept, reducing the need for duplicate equipment and allowing for collaboration between researchers (photo by Laura Pedersen)
Funding for the renovation is in part the result of the faculty's strategic plan, with a priority on reinvesting in the internationally renowned research program, which required labs to be fundamentally reimagined. The plan also equally values research and education, as represented in the leadership of two vice-deans: Bernhard Ganss, research, and Jim Yuan Lai, education.
The new space addresses resource issues, including the move of a group of five principal investigators from a satellite location into the dentistry building. This will not only eliminate the isolation that comes with having researchers in multiple locations, but will reduce duplication as there was the need for equipment and supporting infrastructure in two locations. The flexible workspace includes benches that can be unplugged and moved, allowing for ease of moving when new members join the space.
"Safety was also going to become an issue in the near future with the previous space," said Haas. "The old labs made it challenging to comply with modern safety standards. The new lab upgrades include details, such as automatic door openers, eyewash stations and safety showers, that make the entire wet lab compliant with advanced safety standards. It's small changes like this that give our researchers peace of mind and allow them to better focus on their work."
Bright, open workspaces and offices now exist in the new dentistry building, increasing communication between colleagues and researchers (photo by Laura Pedersen)
Located off campus on Edward Street, the dentistry building has limited green space, surrounded by tall buildings. Previously the daylight was mostly blocked, but the new plan provides light to all areas of the building, with the exception of a few labs where it's not wanted. Wooden floors and accents as well as bright colours also add to the feeling of an outdoor space. The renovated space includes lighting that goes on with movement and that dims when the sun shines through the windows, eliminating excessive use of energy.
Hass said that "2018 will bring a fresh start with a new infrastructure that will transform the way we conduct research. We're excited about what this new space will mean for the future of dentistry and our faculty."
Related posts