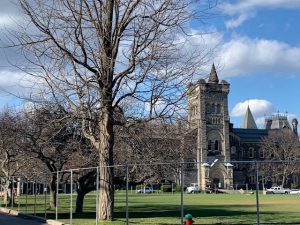 The Landmark Project is one of the most significant open-space projects at the University of Toronto in the past 100 years. We are set to transform the heart of our downtown campus into a greener and more accessible park-like setting, complete with sustainable features such as a major geothermal field under KCC that will save an estimated 15,000 metric tons of greenhouse gas emissions each year. We are also building an underground garage with 60 electric vehicle parking spaces and storage capacity for more than 300 bikes. You can read more about this exciting project at landmark.utoronto.ca.
As with major capital construction projects, there may be increased noise interruption and changes to how our campus is accessed during this time. While we are taking advantage of little to no foot traffic on campus, we are working to minimize these interruptions and ensure all safety measures are in place now and when normal University activity resumes. We thank you in advance for your understanding and will ensure to provide regular communications updates with the University of Toronto community on our progress.
I can assure you that we will continue to actively monitor conditions in relations to COVID-19 and follow the advice of government and public health officials.  With more than 1,000 jobs at risk on U of T construction sites, we are working hard to ensure paycheques continue to be available to those who are available to work and can do so under health and essential services directives. Rest assured that should the status of essential services change in Ontario, we will immediately halt operations and proceed only when advisable to do so.
I know it is difficult to think of a future beyond COVID-19, but long before the pandemic hit, U of T was focused on providing real solutions to climate change, one of the greatest environmental challenges faced by today's society. The Landmark Project will make a significant contribution in reducing U of T's GHG emissions by 37 per cent from 1990 levels by 2030 and make great strides towards our vision of a more sustainable future.
Sincerely,
Scott Mabury
Vice President, University Operations and Real Estate Partnerships
Related posts