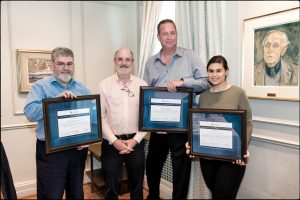 Our winners (l-r): Ken, (Scott Mabury, VP UO), Blair and Kristina (photo: Lisa Sakulensky Photography
The Simcoe Hall Vice-Presidential Staff Awards recognize outstanding performance in the portfolios reporting into the Offices of the President, Vice-President & Provost, the Simcoe Hall Vice-Presidents, and the Office of the Governing Council.
We are delighted that this year, 3 members of the University Operations portfolio have been honoured with the Award:
Ken DeBaeremaeker 
Manager, Enrolment and Tuition Fees Planning and Analysis, Planning & Budget
Ken was recognized for his many years of dedicated professionalism, service orientation and teamwork as a member of the Planning and Budget team, the university as a whole and COU. Ken is one of the most respected enrolment, tuition and operating grant experts in the Province. He is heavily relied on internally and externally for his advice and analysis in support of advocacy and planning. There isn't a plan or proposal in the last 25 years that doesn't rely on Ken's work at some level. Ken has a remarkable ability to see things from the strategic high level down to the micro unit level. For this reason his work has been appreciated by Presidents, Provosts and Deans for decades. Given the technical and collaborative nature of what Ken does, he often remains in the background while other people present the results of the work he has contributed to. He is the most hard-working, reliable and service oriented person I know, and the university is extremely fortunate to have him.
Kristina Kazandjian
Marketing, Communication & Trademark Licensing Coordinator, Ancillary Services
Kristina was cited for her professionalism, service orientation, attention to detail and the fact that she cares deeply about doing an excellent job (even if no one else notices. Kristina is continually seeking to improve the Trademark Licensing program, make it relevant to students and departments, generate school spirit and revenues for the Bookstore and Student Life. She takes the ball and runs with it. Her Director has to keep reminding people that it is a department with one FTE! Colleagues praised the infectious enthusiasm, sense of humour and positive attitude that she brings to the workplace. She literally cheers everyone up just by being here every day.
Blair Mochrie
Manager of Trades Services, Facilities & Services
Many people think of customer service as simply being friendly and gregarious. And, while Blair Mochrie is certainly a people person, he embodies so many other qualities that are essential to providing top notch customer service. Over the past 10 years as the Manager of Trades Services, Blair has provided a calming presence in the midst of sometimes chaotic and panic stricken circumstances. His responsiveness in critical situations, his knowledge of building systems and what it takes to effect repairs in a timely and efficient manner, and his commitment to getting the job done has pulled the University's fat out of the fire on more than one occasion when it looked like essential research and teaching functions were in jeopardy.
Congratulations to Ken, Kristina and Blair for their exemplary contributions to the University Operations team!
To read more about the Awards, please visit: Simcoe Hall Vice-Presidential Staff Awards.
Related posts