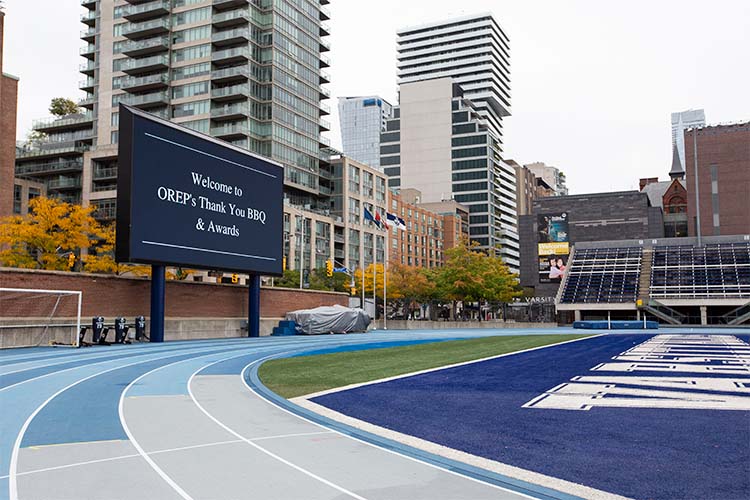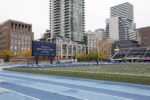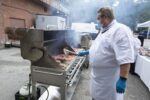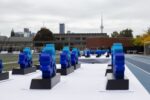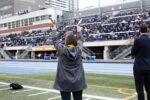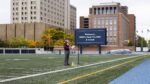 (photos: Jackie Shapiro, Ancillary Services)
For the sixth year, and following a year's hiatus, Operations & Real Estate Partnerships team members gathered for the OREP Thank BBQ & Awards event, one day later than originally scheduled due to nature's fickle plans. Over 470 staff members had rsvpd with alacrity to enjoy delicious food – supplied by our very own Food Services culinary team – to the sounds of our Faculty of Music's student steel pan band, in a socially distanced, EAT-guided and EHS-approved event.
This is our opportunity to celebrate our entire team, and to honour our often unsung heroes for the great work they do in creatively, efficiently and dedicatedly furthering our mission through our three levels of OREP Awards. The Varsity Stadium jumbotron was used to great effect to not only remind people about social distancing rules, but also to feature and celebrate every single one of our 15 Outstanding Individual Award winners, 6 Distinguished Service Award winners and the 93 members from the 11 Outstanding Staff Teams.
Our thanks to KPE and to Varsity Stadium staff for allowing us to use their venue to host our staff!
Congratulations to all…read more about your colleagues (and yourselves!) below and on our website!
Operations & Real Estate Partnerships Annual Staff Achievement Awards Program
The Vice-President Operations & Real Estate Partnerships has established the annual Staff Achievement Awards Program in order to recognize exceptional staff contributions to the success of their particular unit, the University Operations portfolio and the University.
The program provides Operations & Real Estate Partnerships with an opportunity to thank staff for the valuable work performed throughout the year.
Outstanding Individual Employee Award
Presented to an individual staff member (regardless of length of service) involved in any area of staff work who has made outstanding contributions that go beyond the ordinary fulfillment of the position's duties.
This year's winners:
Praveen Narayanaswamy, EASI, ITS
Jelena Vulovic-Basic, Facilities & Services
Karolina Grujic, Design & Engineering, UPDC
Robin Wilcoxen, Information Security, ITS
Susan Shen, Food Service, Ancillary Services
Russell Smith, Ancillary Services
Kristina Kazandjian, Trademark Licensing, Ancillary Services
Brooke Gregoire, Food Services, Ancillary Services
Liza (Lai-shan) Wong,  Ancillary Services
Michael Jeronimo, Food Services, Ancillary Services
Alim Alarakhia, Graduate House, Ancillary Services
Song (Sirichai) Limpanapongpan, Student Family Housing, Ancillary Services
Katie Muir OREP Human Resources
Patsy Rampersad, Caretaking, Facilities & Services
Silvestre Amaral, Caretaking, Facilities & Services
Distinguished Service Award
Presented to an employee with more than 15 years of service at the University who has made outstanding contributions that go beyond the ordinary fulfillment of the position's duties.
This year's winners:
Roy Voogel, Trades Services, Facilities & Services
Eugenia Romero, Caretaking Services, Facilities & Services
Albert Hastings Campus Safety, Facilities & Services
Glen Pirie, Facilities & Services
Al Lecointe Planning & Budget
Michael (Mike) Ryall, EASI/PGAC, ITS
Outstanding Staff Team Award
Presented to two or more staff members who function as a team and who have taken on a time-limited project.
Edge Firewall Migration Project ITS)
Three impactful cyber security attacks targeting the University of Toronto (U of T) on Dec. 9 2020 were the impetus to accelerate a next-generation firewall (NGFW) migration.  Although there were significant risks in rushing the project and doing it during exams, agility, collaboration, communication, and engagement across the entire IT @UofT community lead to a successful and unheralded 24 hr implementation and we had a uneventful conclusion to exams and the term.  Solid and professional preparation by the team over the fall played a significant role in their success.
The Team
Joe Bate
Carl Chan
John Calvin
Jason Chan
Kevin Wong
Sean Despres
Proactive Disinfection Team (F&S)
The "Proactive Disinfection Team" was assembled to establish and execute COVID-19 disinfection protocols to ensure the ongoing safety of our facilities and community.
This team coordinated 300 disinfections – almost one a day – across the St. George campus. Each disinfection protocol involves timely communication to the community, closure of space, immediate mobilization and dispatching of cleaning personnel, and ensuring the safety of staff conducting disinfection. The team has demonstrated its commitment to safety and communication, with disinfections occurring daily
In addition, the team coordinated the purchase and installation of 3,000+ hand sanitizer and disinfectant wipe stations, and established operational procedures to inspect and refill them.
The Team
Mark Simpson
Ronald Atkins
Tony Peixoto
Fatima Costa
Rodney Gensell
Grant Harvey
Switchboard & Reception in the Time of COVID (F&S)
 With a collective tenure of 65+ years of service at the University of Toronto, Sandy and Joanne supported the reception activities of a department with a largely essential workforce and have contributed to University-wide pandemic efforts.
They created a safe new process for accepting deliveries and supported uninterrupted vaccine clinic operations.
They took on the role of distributing of masks and face shields to all staff on the St. George campus. They counted, distributed and coordinated the collection of thousands of non-medical masks and face shields.
Joanne and Sandy supported the finance staff who worked remotely. This was pivotal to successfully concluding two consecutive fiscal year-ends.
The Team
Joanne Dedes
Sandy Levere
Property Managers and Vaccine Clinic In the Time of COVID (F&S)
Romy, Adam, Lucy and Christine from Facilities & Services mobilized to act quickly to help prepare and open the St. George vaccine clinic in just two weeks' time.
This team demonstrated tremendous team work by leaning on each other to get this done quickly and effectively. Their mutual experience and expertise was critical to the success of the initiative. All four contributed many hours, hard work and dedication to the details to not only open the vaccine clinic but to reorganize operations outside of the clinic space, rearrange facilities (such as signage, parking and elevators) and re-route all deliveries and traffic to ensure the safety of patients.
The Team
Romy Thomas
Adam Lucas
Christine Davidson
Lucy Sullivan
Community Policing Initiatives (F&S)
 Holiday Toy Drive
In November 2020, Special Constables Lauren Weidmark, Monique Altmann, Jenna Glen & John Bongers embarked on a Community Policing initiative to ensure under privileged children received a gift on Christmas morning.
Teaming up with staff from St. Michael's College and the Society of Saint Vincent Depaul, they collected gift cards totalling $2620.00.
Spring Sock Drive
In March 2021, Special Constables Maria Cunha and Matt Kerr began a Sock Drive for the homeless. They distributed posters around the St. George Campus and engaged university stakeholders.
Upon hearing the news, Nancy Dempsey, Blair Mochrie, and Anna Kulikov assisted with promotion and setting up donations bins within several key locations. 1200 pairs of socks were donated.
The Team
John Bongers
Jenna Glen
Monique Altmann
Lauren Weidmark
Maria Cunha
Matt Kerr
Nancy Dempsey
Blair Mochrie
Campus Events switch to virtual (Ancillary Services)
During the pandemic, the Campus Events team repeatedly pivoted and leveraged their strengths and experience to master new skills and systems such as MS Live to develop educational and operational resources.
The exceptional services offered have enabled Campus Events to facilitate more than 300 virtual activities to date. These have included virtual orientation events, Fall Campus Week recruitment events, virtual spring and fall Convocation viewing parties, departmental meetings and events of high profile. These activities have elevated the profile of the University while engaging tens of thousands of international participants from various time zones around the world.
Given that physical spaces are in high demand, this extensive expertise around virtual and hybrid events continues to be a critical asset to the wider Campus community.
The Team
Sarah Reid
Arielle Berube
Jennifer Vance
David Koufis
David Carinci
Clare Eno
Academic Pathways and Degree Completion Team (Planning & Budget)
The IRDG team provides data to analyze and answer foundational questions about the University's programs and services. Over the last year, the team developed an innovative approach to mapping the academic pathways students take as they start, make progress, and complete their programs. The team worked alongside subject matter experts to understand the needs of Deans, Registrars, and Program Offices and designed data structures and dashboards to visualize students' academic journeys. The data provides a foundation for identifying program pathways, fostering student success, and delivering tools to support future generations of UofT students as they navigate their degrees.
The Team
Amandeep Sharma
Yuliya Cherevko
Louise Tardif
Jeff Waldman
David Wang
UCheck implementation team (cross portfolio)
By now most of us know about UCheck.  Behind the scenes a cross portfolio team at , the University of Toronto responded quickly and efficiently to evolving public health guidance to roll out our on-line symptom screening for individuals coming to campus, contact tracing options for EHS, and management of rapid testing sites. When things work we sometimes take it for granted and don't realize how challenging they are to develop and execute., requiring a skilled, and multi-disciplinary team across Information technology and key business areas.
In the "spirit of UTogether", members of ITS, Human Resources, EHS, Facilities and Services, and the Provost's office worked under very tight deadlines and evolving requirements to make this new and important application available to the community, by:
The Team
Farah Ally                  ITS
Brian Galvis               ITS
Kelly Gao                   ITS
Rodney Branch         ITS
Sue McGlashan        ITS
Carrie Schmidt         ITS
Rachel Tennant        Facilities & Services
Anna Kulikov            Facilities & Services
Hayley Fuller            People Strategy, Equity & Culture
Joan Griffin               People Strategy, Equity & Culture
Andrea Foster           People Strategy, Equity & Culture
Cherilyn Nobleza     People Strategy, Equity & Culture
Rachael Ferenbok    People Strategy, Equity & Culture
Phil Harper                People Strategy, Equity & Culture
Meredith Strong       Office of the Vice-Provost, Students
Kay Kelly                    University of Toronto Communications
Raphael Eskenazi     Office of the Governing Council
Gina Trubiani            Environmental Health & Safety
Genalyn Lo                 Environmental Health & Safety
Sinisa Markovic        Enrolment Services
Quarantine Housing Program (cross portfolio)
Since August of 2020 – an enthusiastic and dedicated team with representatives from multiple divisions across U of T has worked hard to develop, manage, and maintain a program that has been recognized as best in its class by external partners. The Hotel Quarantine Program was developed to meet tri-level government requirements that established U of T as a Designated Learning Institution with a rigorous COVID-19 readiness plan in place that would support international students for a safe entry to Canada.
While the plan also included a program of support for students quarantining at home, the Hotel Quarantine Program is the signature program, designed to be a "one stop shop" for the incoming or returning international student (as well as Canadian students returning from abroad).
The Team
Edward Lo                Food Services
Jaco Lokker              Food Services
Olivia Boutilier          Food Services
Jonathan Phillips      Food Services
Dariusz Jaczynski     Food Services
Tyler Watson             Food Services
Rob Grieve                Food Services
Aaron Tsang              Residence Life
Julia Goudreau         Residence Life
Alexandra Jamieson Residence Life
Paige Julian                Residence Life
David Kim                   Residence Life
Clayon Levy               Housing Services
Don Sison                  Housing Services
Arlene Clement        Housing Services
Katherine Beaumont         Centre for International Experience
Rachael Ferenbok              People Strategy, Equity & Culture
Brigid McNulty          Vice-Provost, Students
Meredith Strong       Vice-Provost, Students
Owen McCartney     Real Estate
Josh Mitchell             Real Estate
Janine Robb              Health and Wellness Centre
Susan Camm             Health and Wellness Centre
Loretta Mak               Health and Wellness Centre
Serena Persaud       Office of the CAO, Student Life
Chestnut Residence pre-order and pickup mobile payment app (Ancillary Services)
A mobile pre order and payment app was developed and launched within the Chestnut Residence as a response to the dining hall capacity limits during the pandemic. This provided students greater accessibility to menu options, and flexibility in accommodating schedules around online learning. Approximately 80% of all students in residence downloaded the app, up to 49% of transactions were conducted via the app during peak meal periods- providing a convenient and safe alternative to the dining hall for students, especially at the supper period.  An overall satisfaction rate of 95% was achieved between app launch and the end of the school year. A collaborative team effort was required between a group of key individuals across food services.
The Team
Jaco Lokker
Michael Jeronimo
Susan Shen
Edward Lo
Olivia Boutilier
Dariusz Jaczynski
Tyler Watson
Food Services HR during the Time of COVID (OREP HR)
The Human Resources team actively supported the Food Services leadership team the moment the pandemic began to impact the business in March 2020. Overnight, the retail, catering and conference business evaporated, and tough decisions needed to be made. This HR team ensured FS had all the tools and information required to enable key decision making and the delivery of such decisions to impacted individuals. On every occasion they provided enhanced levels of support with each iteration of the process. Examples include assisting with the dozens of Covid-19 General Assessment Tools, auditing U-Check, and facilitating the collaboration with others such as caretaking and EHS. The team continually provided unprecedented support with a service level that was exceptional and truly second to none.
The Team
Lori-Anne Hill
Ashley Jordan
Katie Muir
Related posts