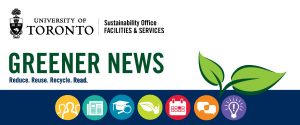 Happy July!
We hope your summer is off to a great start! Canada Day may have passed, but there's still lots to applaud. Did you know that Canada jumped to 4th in the new global cleantech rankings? And that Greenpeace was founded in Canada?
If you're looking for things to do this month, how about setting a goal to help reduce clothing waste? Or checking out U of T Scarborough's new exhibition called "Unsettling"?
And no matter where this month takes you, here are 10 ways to stay green on the go!
Greenest Regards,
Narisa, Jess, and Dione
P.S.
Read about the passing of TransformTO at last night's City council meeting – a move toward strong climate action in Toronto.
Read more about what's happening in our environmental community here!
Related posts