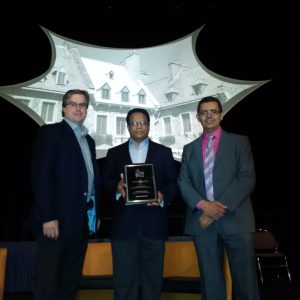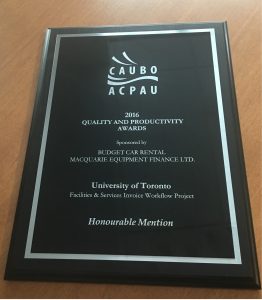 The recipients of the 2016 CAUBO Quality and Productivity Awards were announced during the most recent CAUBO annual conference (held in Quebec City on June 12-14). We are very happy to share that U of T received an Honourable Mention for the Facilities & Services Invoice Workflow Project.  You can find more details regarding the Q&P Award and this year's recipients by following the link here.
A broadly transformative project, the Facilities & Services (F&S) Workflow initiative automates the department's invoice payment process, significantly increasing productivity for more than 100 staff members across the university. Embedded with internal controls, the electronic invoice workflow system gives users the ability to view and approve invoices using SAP or web interface. This reduces risk by eliminating potential duplicate payments, promoting greater accountability and transparency, and generating several customized management reports that provide new opportunities for management oversight of spend analysis. Ensuring timely approval of F&S payables also enables opportunities for early payment discounts. Meanwhile, budgetary controls are enhanced thanks to real time data on budget expenditures and accrual valuations.
The software uses state-of-the art optical scanning technology to enable data mining from scanned invoices. These include utility meter readings, which are stored in an energy database automated to generate key metrics and up-to-date consumption data. A robust search tool allows users to easily extract information. An electronic approval system also significantly reduces paper consumption – approximately 60% of invoices are now received by email.
The system was pro-actively designed to permit transferability to other departments with relatively little customization, and plans are underway to work collaboratively with other institutions to discuss transferability potential.
For further information on this project, please contact:
Darrel Fernandopulle, Director, Finance – Facilities & Services
416-978-6858     darrel.fernandopulle@utoronto.ca
Dolphin, our vendor partner on this initiative, has also issued a press release congratulating U of T for the award.
Related posts