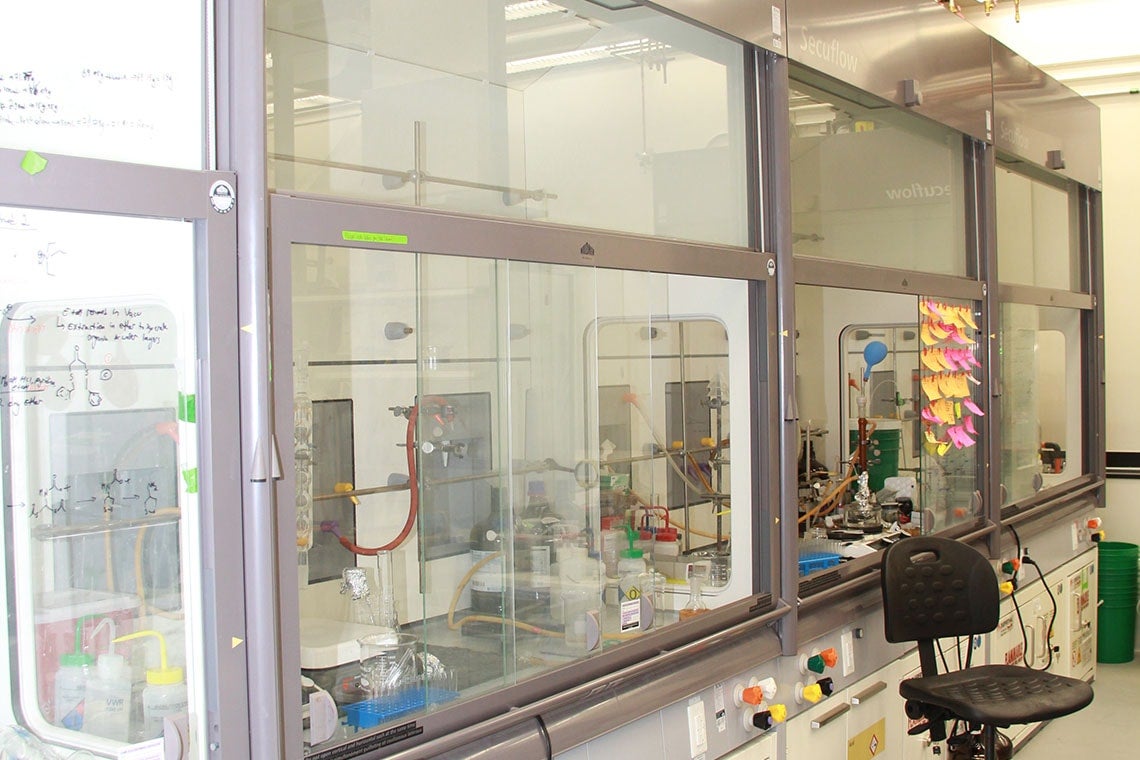 A $17-million renovation project has overhauled the infrastructure serving the Davis Building's "wet" scientific laboratories, sweeping away outdated technology and setting the stage for energy-efficient, modern and future-ready lab space.
The funding of the laboratories at U of T Missisauga is part of the Lab Innovation for Toronto (LIFT) project, announced in July of 2016, that will see nearly half of the University of Toronto's research labs upgraded over two years.
The Davis Building renovations, which affect 63 laboratories and almost 7,000 square metres of space, will benefit up to 95 researchers in both the departments of chemical and physical sciences, and biology.
A large proportion of the renovations are not immediately obvious, but deal with critical issues such as back-up power, updated electrical power and air handling. But for two large laboratories, run by Professor Angela Lange and Assistant Professor Andrew Beharry, the renovations involved the installation of new facilities such as high-efficiency fume hoods, cell culture rooms, dedicated microscope suites and quarantine rooms.
"Everything is top-of-the-line," says Brandon Lawrence, assistant director of planning design and construction. "It's bright, clean and modern. The fume hood system is fully customizable, and saves a lot of energy." For example, he says, as new faculty are hired, the system can be reconfigured to add additional research spaces within the labs.
In keeping with U of T Mississauga's commitment to sustainability, says Lawrence, the new labs also incorporate energy-efficient LED lighting systems, occupancy sensors and laminated wood materials that are environmentally friendly.
Beharry, who studies anticancer drug resistance and the discovery of new inhibitors for cancer therapy, appreciates the flexibility of the new space.
"Our work involves organic synthesis, biochemistry and cell biology. By having a new lab space, it allows us to do all of those things," he says. "The lab has all the equipment and resources to carry out our day-to-day research with minimal delays."
The LIFT project was announced in July of 2016, with nearly $190 million in funding to upgrade nearly half of U of T's research labs. The university is providing $91.8 million, while the federal and provincial governments are contributing $83.7 million and $14.3 million, respectively, for a total of $189.8 million. The 55 projects are expected to be complete by spring of 2018.
Related posts