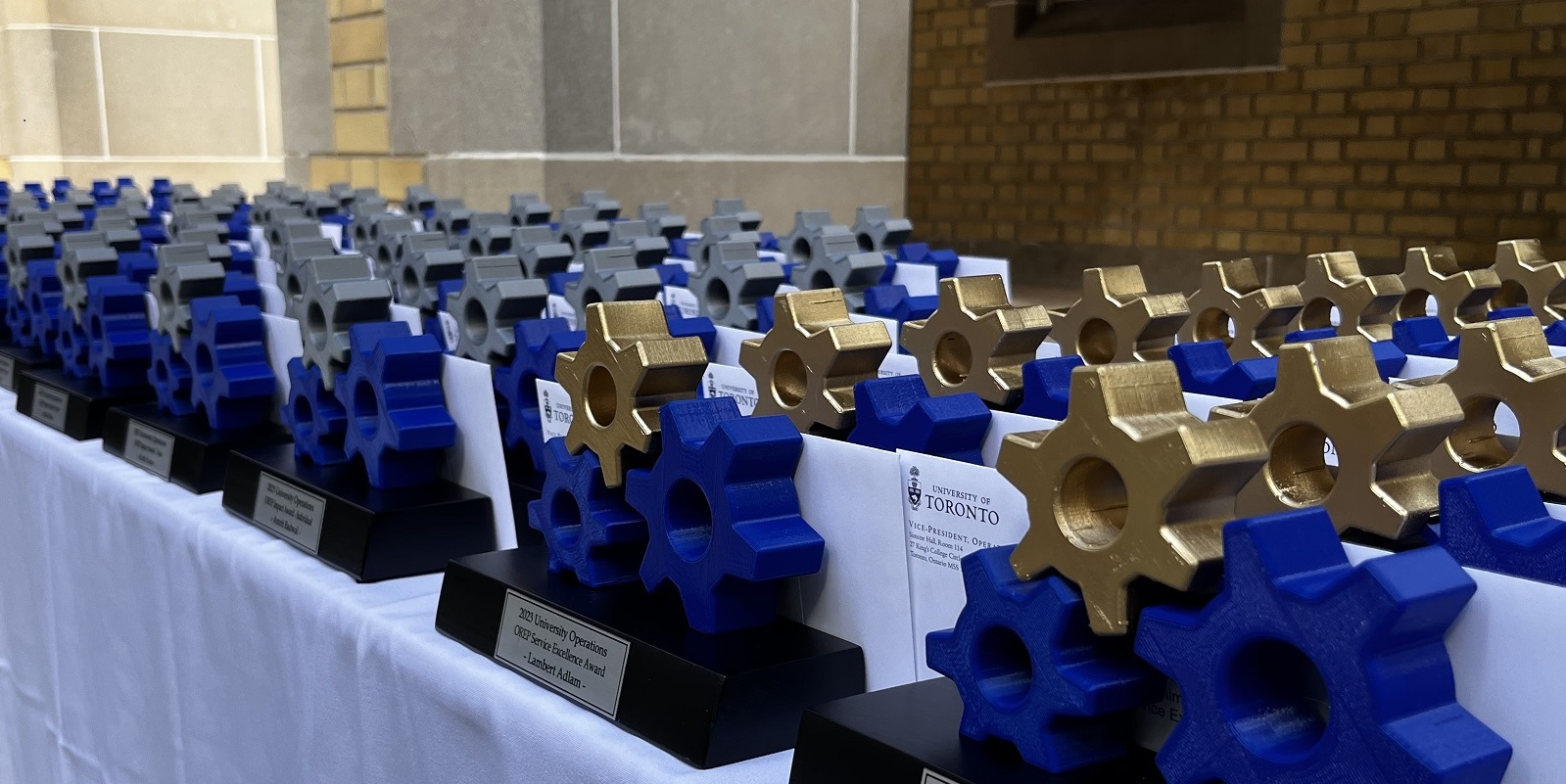 Read more about our award winners below:
The OREP Impact Award

 
The Impact Award has been designed to recognize individuals or teams who, above and beyond their regular roles and responsibilities, have developed, revised or implemented a system, tool, process, initiative or program, which concluded in the last calendar year, that had a positive impact within their unit or portfolio, or across the University. The new Impact Award replaces the previous Outstanding Individual Employee and Outstanding Staff Team Awards.
To be considered for the award, the nominee must have made an impact in at least one of the following ways:
enhanced service delivery;
created efficiencies;
enhanced productivity;
supported sustainability efforts;
enhanced the university environment and/or experience; or
decreased organizational risks
Impact Award Winners (Individual) 2023

Amrit Badwal, Architectural Assistant, Design & Engineering, UPDC
Amrit has been with the Department of Design & Engineering in the role of Architectural Assistant since the summer of 2019, starting in a temporary position and, as a result of his excellent contributions, he was offered a continuing position in 2021. Since that time, Amrit has become the go‐to person for all Design & Engineering personnel for processes and procedures related to contract administration.
Amrit's contributions to the department far exceed the basic fulfillment of the requirements of his position and deserve to be acknowledged with this award.
Mladen Pejic, Senior Project Manager, Accessibility, Infrastructure Planning and Implementation, F&S
Facilities & Services would like to recognize Mladen Pejic, senior project manager, accessibility for his leadership and resolve to advancing accessibility across all three campuses. In the past year, Mladen developed the Facility Accessibility Design Standard (FADS), an updated guideline setting out a universal design precedent for all future construction and renovation projects in spaces owned and occupied by the University of Toronto.
Mladen is a passionate advocate for accessibility and is actively contributing his wealth of knowledge from his studies with U of T's Daniel's Faculty of Architecture, and experience in design with healthcare projects to making great advances in this space for the university community.

Olivia Stewart, Development Finance Analyst, Spaces & Experiences
Olivia started working at the University during the pandemic, in October 2021 and was hired to join the University's Real Estate team based on her investments expertise. She hit the ground running, developing, and adding helpful features to financial models for all 4Corners development projects. Her financial underwriting skills have been critical in investigating and completing multiple acquisitions including the University's acquisition of Knox College, which closed this year. Olivia's expertise in commercial underwriting and development management has been fundamental to the success of all 4Corners projects. Always with a smile on her face and a friendly demeanour, Olivia is the perfect candidate for this award.

Onkar Tendulkar, Operations Coordinator, Food Services
Onkar's contribution to the Food Services program is significant – he approaches each day with a positive, steadfast, and congenial attitude. He works to the end, and he achieves outcomes no matter the path to completion – he is truly indispensable and a joy to work alongside. Onkar is deserving of this recognition and award.
While Onkar's knowledge, skills and experience preceded his joining Food, the process he employs to achieve outcomes complements our collective principles – he is a key person who keeps us all functioning as one.
We often say that Onkar is as versatile as a Swiss army knife!

Xin Xiang, Senior Identity and Access Management Administrator, Information Security
Xin Xiang is a crucial member of the Identity and Access Management team in Information Security. As the IAM Team's Senior Identity and Access Management Administrator, Xin's work has positively impacted virtually everyone at the University, creating value and efficiency, foster innovating across existing services, and reducing information risk at the University.
She is an unassuming but essential person within the Identity and Access Management team, leading by example on a daily basis, from her desk and within meetings. Her quiet, consistent excellence deserves recognition.
Impact Award Winners (Team) 2023

EASI Rocket Shuttle Migration team
Nominated for their highly successful efforts in transitioning over 260 users from Rocket Shuttle, a legacy reporting application for ROSI, to a new modern, and powerful reporting platform.
For close to a quarter of a century, Rocket Shuttle has been the only ROSI reporting tool available to divisions in support of their operational information needs.
Expensive, and requiring a high level of technical expertise to master, Rocket Shuttle no longer met the expanding needs of the ROSI community. A more modern reporting tool which aligned with the University's security model and provided the flexibility to accommodate advanced queries and professional dashboards and analytics had become an urgent need.
Taking up this challenge was a highly resourceful and dedicated team within EASI, charged with finding solutions to move thousands of legacy reporting queries and programs across the university to the new Azure PowerBI and Data Studio platform before our contract with Rocket Shuttle expired in June 2023.
Team:
Katie Babcock
Rod Branch
Tammy Chan
Pierre Hanna
Titus Hsu
Alim Lalani
Dmytro Larichiev
Amy Li
Moulika Ranikunta
Joanne Sukhai
David Wang
Bruce Zhu

Food Services and MealCare
Food insecurity is the inadequate or insecure access to food due to financial constraints. It is a serious public health problem, a marker of pervasive material deprivation, and a matter of public policy. The student body of the University of Toronto is not an exception to this phenomenon. The University has seen this issue rise to the forefront in recent years.
University Food Services takes this issue very seriously, and this nomination is intended to recognise the incredible work of the three associates named above.
They have collaborated with the U of T chapter of MealCare, which partners with campus eateries and grocery stores to collect, redistribute and deliver surplus food to local shelters and meal programs. Amanda, Trish, and Tiffany developed training programs on food safety and food security. In addition, they supervised and guided this group of students' daily rescuing meals from our food services outlets.
Team:
Amanda Chapman
Tiffany Chin
Trish Donnelly

Multi Factor Authentication (MFA)
In March 2023, the MFA program successfully completed with the enrollment of UofT's staff and faculty (~40,000) and students (~100,000). This involved interacting with 140,000 individuals and as an additional positive outcome, many of them will use the same practice to secure their personal accounts. The adoption of MFA has significantly reduced the number of compromised accounts from almost 1,000 accounts per month to nearly 0, therefore reducing cyber risk exposure for UofT.
Another important element was the adoption of governance processes including the use of Customer Advisory Group and a Steering Committee to guide the program through its life span, and their broad support and participation of their community's was essential for the success of the program.
With this engagement, the project team devised flexible approaches to meet each community's needs, enabling each unit to dictate the best way to deploy MFA in their own context.
Team:
Arathi Devadas
Deyves Fonseca
Luke Sutherland
Matt Wilks

Spaces & Experiences EDI
The S&E management team had several conversations during the summer of 2021 about the development of an equity, diversity, and inclusion (EDI) action plan for our division that aligned with the broader work undertaken at U of T. From that, they established a framework that centred around six focus areas and identified a need to bring the focus areas, and topic of EDI generally, to the entire staff of S&E to ensure that their feedback was incorporated into our plans.
Thanks to the work of a small group of individuals within S&E and two consultants (currently members of the UofT equity team) with expertise in the area of EDI, a survey was developed, to be followed up with focus groups for employees in order to achieve a broad and comprehensive consultation and understanding of the various ways EDI is experienced among employees of Spaces & Experiences. The end result will be a report aimed at offering insights and recommendations intended to inform an EDI strategy for S&E for the new academic year.
The team's dedication to the process, careful consideration of many factors in creating the survey and an eagerness to champion the work of EDI was heartening and will ensure that our plans are deeply reflective of the experience of our team.
Team:
Natalie Elisha (PSEC)
Lori-Anne Hill
David Kim
David Pereira (PSEC)
Laura Rosen Cohen
Elizabeth Urbanowski

UData – Connecting and Empowering Data Analysts across UofT
Engaging and empowering our data analyst community is a key priority of the University of Toronto's (UofT) institutional data strategy. In response to the needs identified by our data analysts, the nominated team played a critical role in launching UData, an internal site that serves as an information hub for the community. UData houses our data catalogue and guidelines, inventories institutional data tools and training opportunities, profiles our data teams, events and more. The site aims to draw visibility to these assets while also facilitating knowledge exchange and collaboration across data teams that work across our three campuses. Ultimately UData is intended to promote a culture of good data governance whereby data are effectively managed, understood, and utilized to drive decision-making.
The team did a tremendous job in designing, building, and testing the UData SharePoint site.
The site currently draws over 100 unique users every month. New team spotlights and events are highlighted to continue to draw in the audience. With the foundations being set, UData will continue to evolve to meet the needs of the community.
Team:
Helen Chang
Kayla Pedret
Kelly Raposo
Jeff Waldman

Wellness Pilot Program
As we all know, the last three years have been challenging with many people looking to university resources to help restore personal and workplace healthy living habits.
Entering this fray last October was a team of very creative and energetic people within EASI, who, in partnership with PSEC, launched a new Wellness Pilot Program as part of our Return to Campus efforts. Over the subsequent six months, the team with guidance from Richa Chodha, a Workplace Wellness Coordinator with PSEC, provided managers and staff with curated sets of wellbeing materials to allow for quick and easy access to wellness tools provided by the university.
This was a grass-roots program initiated by staff for staff and is a great example of shared leadership in the workplace. An EASI Wellness SharePoint site was created to save all the wellness kits and will act as a resource site going forward.
Team:
Jimmy Au
Vikram Chadalawada
Justin Charlick
Richa Chodha (PSEC)
Dana Pogaceanu
Aline Pruvot
Mariana Vardaei
Vicki Vokas

Project Leap Team
Facilities & Services would like to recognize the team at the heart of the successful planning of Project Leap—the very ambitious and extensive initiative aimed at accelerating reductions of greenhouse gas emissions on the St. George campus towards our 2030 and 2050 carbon reduction targets.
Project Leap consists of tangible and technically feasible solutions to achieve the climate positive campus vision in a fiscally responsible way using an outcome based procurement that mitigates risk for the University. The developments proposed by Leap advance the pre-existing climate positive campus strategy by 10 years, reducing an incremental 436,000 tonnes of carbon.
The team driving Project Leap forward is passionate about taking significant and immediate action against climate change. They have pooled their collective creativity, experience, expertise, and energy to ensure that all the elements necessary for its successful realization—engineering, financial, and operational— are considered and incorporated into the plan.
Since its initiation in 2021, the team has made significant progress. Implementation is set to begin in early summer of 2023—a rapid advancement for a project of this magnitude and scope.
Team:
Paul Alves
Jasmeet Bali
Flavio Bertolo
Michelt Carvalho
Vic Cassano
Stan Chow
Michael Clesle
Marc Couture
Keith Foster
Kevin Leong
Gurmel Multani
Artur Syrek
Christine Tan
Jelena Vulovic-Basic
John Walker
Larry Yang
Distinguished Service Award Winners 2023
Presented to an employee with more than 15 years of service at the University who has made outstanding contributions that go beyond the ordinary fulfillment of the position's duties.
Alexandra Agostino, Business Intelligence Project Leader, Planning and Budget
Alex was nominated due to her impactful work to support the P&B team, the analytics community at the University and within the higher education sector. She has contributed tremendously to many projects and initiatives through out the university and continue to be part of many high impact projects.
Alex consistently goes above and beyond to exceed academic units and shared services teams' expectations. She has a deep understanding of their needs and consistently deliver high-quality analytics solutions to help with decision making.
Alex actively seeks out opportunities to collaborate with her team members, external teams, and the broader community of analytics professionals.
Alex has been working at UofT for over 20 years and she has a lot of institutional knowledge. She has a strong understanding of the institutional data/reports and always reaching out to colleagues to make sure they aware of resources available for them and seeking feedback to improve her work.

Rita Aloi, Finance Officer, Financial Services, Facilities and Services
The last nearly 35 years are a testament to Rita's unwavering commitment, a strong work ethic and a contagious, positive demeanor. Rita is unanimously recognized across Finance as an individual who takes great pride in building strong customer relationships and the "go to" person for many who seek her guidance and support. She has also demonstrated great perseverance to ongoing enhancements and projects.
Those who have had the pleasure to witness or work Rita are familiar with her warm, calm, and collected approach in various situations involving significant change management.
Her most recent noteworthy is her steadfast mentality during the start of the pandemic to ensure that key Finance operations continued to move forward efficiently and without disruption. Rita's genuine flexibility and humanity came shining through when she swiftly and without hesitation volunteered to support any and all work that needed to be completed and taking on additional duties to support her colleagues.
On behalf of the entire Finance team, our heartfelt congratulations Rita for your 35 years of service and devotion to the University of Toronto!
Rita Chan, Administrative Assistant, Grounds, Facilities and Services
Facilities & Services would like to recognize Rita Chan with a Distinguished Service Award for over 20 years of dedication to the university, attention to detail, and being an upstanding team member.
In her current role as Administrative Assistant with Grounds Services, Rita has demonstrated honesty, integrity, and compassion and strives to deliver excellent customer service.
Rita is meticulous in her work and extremely dependable. She always double-checks before submitting anything and follows up with all requests. She completes all her work on time, even despite challenges and unforeseen circumstances.
During the launch of the new SAP Asset Manager application and Plant Maintenance modules in 2022, Rita was instrumental in flagging system issues and ensuring the problems were resolved.
All Grounds staff know they can rely on her and deeply appreciate her ability to remain cheerful in all circumstances and situations.

Cathy Eberts, Deputy CIO and Executive Director, EASI, ITS
For over 3 decades, Cathy Eberts has been extremely committed to the success of the University. She has been an exceptional leader, a fantastic mentor and an astute problem solver who has gained the trust and respect of the entire UofT community at every level. She has been instrumental in building a very strong, dedicated team within Enterprise Applications while achieving a significant level of cost savings and efficiencies for the University at large through her deep involvement at the various initiatives.
Throughout her tenure Cathy has played a key role in modernizing technology and leading innovation for the University.
As the Deputy CIO and the Executive Director of EASI, Cathy's ability to find practical solutions under the most difficult of situations makes her an exceptional mentor and a trusted advisor who can dive right into any conversation, navigate to the heart of the issue, and use her vast experience gained on the field to provide a clear direction to deal with complex problems. This was evident during the pandemic when she worked tirelessly to support on campus rapid testing, vaccine pop-up centres, and the Thrive app for COVID-19 self-assessment.
Within EASI, Cathy has successfully sponsored various fun and engaging staff motivational programs such as a monthly radio program to keep staff in touch during COVID, EASI Discovery Day workshops to showcase team projects, and team building exercises such as annual pumpkin carving contests. Cathy's ability to make the workplace exciting and fun has always strengthened collaboration within her department.  Anyone can walk into Cathy's office with a problem and come out feeling like a huge weight has been lifted off their shoulders. Cathy has been able to create a strong team that looks up to her as their leader, mentor, and coach.
Cathy is the ideal reliable leader that every employee at UofT hopes to have as their boss, for she brings to the table a rare combination of self-awareness, university awareness, and solid experience coupled with a very strong sense of commitment and passion to help the university community. She also has a very strong sense of ethics and is always known to practice fair judgement in doing what is right for the benefit of the University. Cathy has made outstanding contributions to the University so far and with her looming retirement, she undoubtedly deserves to be recognized for her distinguished service that will be irreplaceable.

Doug Graham, Property Manager, Property Management Group, Facilities and Services
Facilities & Services would like to recognize Douglas (Doug) Graham with a Distinguished Service Award for his exceptional dedication of over 16 years to stewardship, sustainability, and service excellence at the University.
Doug, a Property Manager in our Property Management Group, has harnessed his keen interest in sustainability by leading solar installation projects, with his latest achievement being the completion of a 350 solar panel installation on the roof of the Bahen Centre for Information Technology. This project is the largest of its kind on campus and has doubled the campus' solar capacity and exceeded commitments for 2024, making Doug a key contributor to our sustainability goals.
Doug's ability to manage buildings and projects is remarkable, and he has been instrumental in disseminating information to his colleagues in Property Management on how to run similar solar projects. He is a reliable team player who is consistently willing to go above and beyond his duties to ensure the success of a project.
Doug also brings his experience as a U of T alum and staff member and his background in adult education, sustainability, and community development to his property manager role to ensure that he is providing excellent client service.
Sandy Habus, Lead Hand, Mechanical (North), Utilities and Building Operations, Facilities and Services
Facilities & Services team would like to recognize Sandy Habus with a distinguished service award for his outstanding service and leadership of mechanical and building operations of the north area of the St. George campus. Sandy has served the university for 21 years—proving again and again to be an invaluable team member, expert, and leader to the team. As Lead Hand, Sandy oversees the operations and maintenance of mechanical systems in high-traffic buildings such as Robarts Library, and consistently ensures that all systems are operating safely and efficiently. His passion for problem-solving and mentoring has made him a great teacher and guide to junior building engineers, while his wealth of knowledge and attention to detail have earned him the respect and admiration of his colleagues.
Sandy has also been instrumental in the successful rollout of the SAP Plant Maintenance and Asset Manager applications, creating a workflow model that has been adopted by other units across campus. He has devoted countless hours to testing and troubleshooting, and his knack for creating consistent systems and processes has resulted in smooth operations throughout the north area. Sandy is truly an exceptional leader and contributor to the team, highly deserving of this recognition.

Pamela Harris, Associate Director, EASI, ITS
Diligent, fiercely loyal, and no-nonsense. Words that clearly describe Pamela Harris, Associate Director of EASI. When Pamela joined the University 25 years ago it was not the behemoth that it has become. During her time here, she has been instrumental in building Enterprise Applications, or EASI, into the department it is today and helping the IT community navigate the broad and blue waters of our current enterprise systems.
Beginning with reporting and analytics in the early 2000s, Pamela established the first Business Intelligence team at the university, expanding this over the years to include new tools such as Cognos, Tableau and PowerBI. Under her leadership, (and maritime sense of humour!) our BI data warehouse infrastructure and associated team analytics skills grew exponentially, and now support and guide a broad range of institutional goals for senior leadership.
As EASI's focus changed and grew, Pamela was responsible for orchestrating restructuring plans that were inclusive of existing staff while at the same time encouraging positive changes to be implemented within various teams. She has worked tirelessly behind the scenes to ensure we have a comprehensive plan for training and upskilling of employees, particularly in moving from ABAP to Java programming languages. She has been an active mentor through the U of T Mentorship program as well as for her staff, helping them determine their career paths through her coaching.
As the saying goes behind every great leader, there is a great woman quietly executing! That is Pamela Harris. She is the robin to Cathy Eberts' batman, and we are eternally grateful for her guidance. As she prepares for the next chapter in her life, retirement, we feel that she undoubtedly needs to be recognized for her distinguished service to her colleagues, ITS, and the University.
Lui Lim, Caretaker, Caretaking, Facilities and Services
Facilities & Services would like to recognize Lui Lim with a Distinguished Service Award for over 27 years of dedication to exceptional customer service and detail at the university.
Lui is a highly valued member of the team, with his nomination for this award initiated and supported by three managers and numerous colleagues. Lui's meticulous attention to detail, excellent communication skills, and positive attitude have earned him excellent reviews from clients in Physics who note that even their office plant leaves are dust-free. He consistently takes the initiative to complete tasks without being asked and has relocated to different buildings and supported new projects with enthusiasm and energy. His dedication to ensuring that Convocation Hall is impeccably cleaned and prepared each year has not gone unnoticed.
Lui's satisfied customer are numerous and include the Dean and community members at Innis College, where he previously worked. They regularly praised him for his outstanding service and his proactive approach to anticipating needs for upcoming events. Lui's colleagues see him as an exemplary dedicated service worker and he has become a "part of the family" of every division he has looked after.

Shams Mia
n, Stores Technician, Trades Logistics, Facilities & Services
Shams Mian has been an invaluable member of the Trades Services team for almost 20 years, and Facilities & Services is proud to nominate him for a Distinguished Service Award. Shams has consistently demonstrated exceptional commitment and dedication to his work since he joined the team in 2008.
Shams is a hardworking and reliable team member who goes above and beyond to support his colleagues. He has shown incredible versatility by working in various support roles in Trades, in addition to his core role in Central Stores, including dispatch, driving, and supporting special projects. Shams is a "can do anything colleague" who is always the first to step forward and offer his support, regardless of the task or the challenges involved. He has a solutions-focused personality that makes him an asset to any team.
Overall, Shams Mian's dedication, reliability, versatility, and problem-solving skills make him a worthy candidate for a Distinguished Service Award.
Gurmel Multani, Chief Engineer of the Central Power Plant, Utilities and Building Operations, F&S
Facilities & Services would like to recognize Gurmel Multani with a distinguished service award for his exceptional technical and operational leadership of over 20 years as Chief Engineer of the Central Power Plant. Gurmel's contributions to the university are extensive.
He has played a critical role in the daily operations of the central plant and distribution of steam and electricity across campus. He has demonstrated foresight and skill in maintaining the reliability of systems that are 50+ years old, ensuring that the campus community has a dependable source of heating. Gurmel's colleagues describe him as a reliable, steadfast leader who works well under pressure.
Gurmel's leadership and dedication to the safe operation of the plant have had a direct impact on the well-being of the campus community. He has overseen critical infrastructure improvements and projects that have resulted in a safer and more sustainable energy source for the university.
Gurmel's contributions have been invaluable to the University of Toronto's Facilities & Services. His leadership, technical expertise, and commitment to safety and sustainability make him an outstanding candidate for a distinguished service award.
Terry Orsatti, Lead Hand, Mechanical (North), Utilities and Building Operations, F&S
Facilities & Services would like to recognize Terry Orsatti with a distinguished service award for his outstanding customer service and leadership of mechanical and building operations of the north area of the St. George campus.
Terry has been an invaluable member of the university community for over 21 years, during which he has consistently demonstrated expertise, a strong work ethic, and outstanding customer service. As Lead Hand, Terry has shown a strong focus on customer service, providing in-person support and communication to clients dealing with issues—all while keeping them informed every step of the way.
Terry's gentle nature, patience, and willingness to lend a hand have helped him build strong relationships with clients and his team, while his dedication to keeping on top of issues has earned him positive feedback from all who work with him.
Terry's attention to detail and problem-solving skills have also been a key asset to the team.
Terry is truly an exceptional leader and contributor to the team, highly deserving of this recognition.
Alvaro Perez, Caretaking Supervisor, Caretaking, Facilities and Services
Facilities & Services would like to recognize Alvaro Perez with a Distinguished Service Award for over 27 years of hard work and commitment to his work and the University.
Alvaro joined the University of Toronto as a Service Worker in Caretaking. He has worked in various buildings on campus and through his hard work, commitment, and dedication was promoted to Caretaking Supervisor.
As a supervisor in the morning or day shift, Alvaro has a positive attitude, is professional, empathetic, respectful, and takes a team-centered approach. He guides, supports, and instructs team members across multiple buildings. He ensures that day-to-day operations run smoothly, that all tasks are completed by end of day, and that a safe and healthy environment at the University are prioritized.
Alvaro strives to achieve a high level of customer service, taking great pride in his day-to-day responsibilities. He is always ready to help in any situation, and willing to take on any task, be it big or small.
Rob Provost, Environmental Protection Manager, Buildings and Grounds, F&S
The Facilities & Services team would like to recognize Rob Provost with a distinguished service award to recognize his nearly 25 years of exceptional leadership and dedication to service excellence within his team and the wider University of Toronto community.
Rob has shown an unwavering commitment to consistently providing the highest quality service. Rob and his team are fully trained emergency responders for chemical spills and support all three campuses in managing hazardous and radioactive waste—going above and beyond to ensure the safety of the campuses and the surrounding communities.
Rob has demonstrated superior leadership skills and built and nurtured a cohesive and competent team. He spends time mentoring and cross training his staff to ensure operational coverage and a strong skillset. His interpersonal skills are exemplary, and he keeps his team up to date on what's happening within the organization.
Rob's ongoing efforts ensure that U of T's students, faculty, and staff experience uninterrupted service in times of change.
Rob is an exceptional leader and teammate, and his contributions to the University of Toronto have been immeasurable.

Peter Smith, Environmental Protection Technician, Environmental Protection Services, F&S
Facilities & Services would like to recognize Peter Smith, Environmental Protection Technician with a Distinguished Service Award for his committed service of over 36 years.
During Peter's time with the University, he has moved teams and roles, grown professionally, and expanded his knowledge from radiation waste to hazardous spill response.
Peter prioritizes safety and preventing issues on St. George campus. He is always one of the first to volunteer to respond to a chemical spill on campus. He is dedicated to ensuring the radiation waste operations are compliant and organized and dedicated significant time and effort preparing one of our radiation storage facilities for decommissioning while keeping up with his other responsibilities.
Peter is friendly, sociable, and always willing to help staff and faculty with any of their needs, whether it be related to hazardous waste related or just supporting a colleague in need. Perter is an incredible mentor and teammate and it is our pleasure to honour his dedication to service excellence with a Distinguished Service Award.
Alexandra Stamatakos, Call Centre Operator, Campus Safety, F&S
Facilities & Services would like to recognize Alexandra Stamatakos with a Distinguished Service Award for her unwavering 18 years of dedication to serving clients and her outstanding contributions to safe and smooth operations on campus.
Since joining the call centre on the St. George campus in 2014, Alexandra has consistently provided exceptional service to callers around facilities emergencies and urgent maintenance requests.
As the first point of contact for these calls, Alexandra's personal touch and attention to detail have contributed significantly to the safety and wellbeing of the campus community. Her ability to identify and triage emergency work orders and direct callers to the appropriate resources are invaluable to the smooth operation of campus building and grounds.
Alexandra has consistently demonstrated a commitment to building strong relationships with clients, taking the time to understand their needs and guide them through the process of resolving their issues. Her dedication to providing a positive client experience, even in the face of high call volumes and demanding situations, is a testament to her exceptional customer service skills.
Service Excellence Award Winners 2023
This award is presented by units to their unsung heroes…those staff members whom the unit simply could not do without!

Lambert Adlam, Control Technician, Facilities & Services
F&S would like to recognize Control Technician, Lambert Adlam, for his unwavering commitment to problem-solving, learning, and stewardship of building control systems and thousands of end devices on-campus. Lambert has been instrumental in resolving complex challenges with device connectivity inside critical research spaces like the CL3 lab. He invests significant effort in reviewing systems in great detail before offering valuable recommendations and is continuously studying new knowledge to hone his craft. He is dedicated to sustainability and cost savings, finding ways to repair before replacing devices. He also gladly assumes a leadership role, serving as the acting lead hand when needed and on the Joint Health and Safety Committee. Finally, his colleagues greatly value his knowledge sharing and willingness to help.

Vilma Bernardo, Service Worker and Lead Hand (Acting), Facilities & Services
F&S would like to highlight caretaker, Vilma Bernardo's, invaluable contributions to the daily occupant experience at Convocation Hall and Simcoe Hall and in the Galbraith and Sanford Fleming buildings. Vilma has served the St. George campus community for over a decade. She consistently maintains a high level of cleanliness in these high-traffic and high-profile buildings. She recently took on the acting lead hand role within one of the most challenging buildings on campus. Vilma's exceptional work ethic and attention to detail are evident as she meticulously organizes work areas. Clients praise Vilma's work and joke that they 'never want her to be away'.  We extend our heartfelt gratitude to Vilma for her outstanding efforts throughout her years of service.

Sofia Borelli, Junior Property Manager, Facilities & Services
F&S proudly commends Junior Property Manager, Sofia Borelli, for always putting service excellence first and for her exemplary project delivery. Sofia balances managing the daily needs of five buildings with leading large projects, including exterior building access upgrades and air purifier installation. She navigates complex stakeholder groups with diplomacy and consistently surpasses client expectations by really trying to understand their needs and develop solutions to address them. Working with Sofia has been described as 'a breath of fresh air', as her quickness, enthusiasm, and forward-thinking approach invigorates projects. She is a valuable team-member and a well-deserving recipient of this recognition.

Akmal Ishchanov, Building Engineer, Central Area, Facilities & Services
F&S proudly acknowledges Building Engineer, Akmal Ishchanov, for his positive attitude, tremendous work ethic, and dedication to service excellence in building operations. A true team player, Akmal willingly steps up as an acting lead hand, readily offers support beyond his assigned buildings, and shares knowledge with newer engineers—without hesitation. Akmal applies his extensive troubleshooting skills to proactively identify potential issues and thereby prevent major and expensive repairs to building equipment. Over the last year, he played a critical role by thoroughly and repeatedly testing the new SAP Asset Manager mobile application, contributing to the improvement of service delivery. Through his abilities and drive, he demonstrated the ability to support service calls and mechanical equipment in a larger portfolio of buildings.
Jessica Tucker, Senior Communications Officer, Facilities & Services
F&S proudly recognizes Senior Communications Officer, Jessica Tucker, for bringing fresh ideas and expertise in communication and design to the department, as well as building reliable relationships and processes since joining in 2020. Jessica spearheaded initiatives and innovations to enhance and standardize internal and client communications. Notably, she played a leading role in launching and growing the F&S website and Plugged In e-newsletter, which has 1,750+ subscribers. She is the architect and driving force behind a new service alert system that issues 2,000+ annual service notices to the St. George community. Jessica is a strategic partner to her F&S colleagues. She prioritizes taking a methodical and user-centered approach to all communications plans, materials, and digital and visual assets that she works on. Her mentorship of dozens of work-study students and interns has been sincere and meaningful, and her dedication to service excellence shines within and beyond the department.

Laurie Harrison – Director, Digital Learning Initiatives, ITS
This nomination is for the work she has done above and beyond her 'day' job.   Laurie recognized the need to reinvest in our staff as we came out of the pandemic.  She has led the charge on the new team develop program for ITS.   Laurie used her skills from previous roles as a consultant, along with her PhD from OISE, to roll out a series of initiatives for onboarding, management growth, career development and IT skills training.  We have no idea where Laurie finds the time, but this is a huge contribution that enriches our IT@UofT people.

Lucy Katehos – HR Advisor – OREP HR
Always putting the client first, Lucy is an outstanding HR partner.  Lucy has taken on new challenges this year and exceeded expectations. As a result of some staffing changes, Lucy jumped in from task to task and client group to client group.  What makes Lucy unique is her problem-solving attitude. When her own workload is massive, she always makes the time to answer her colleague's questions. This spring, Lucy represented OREP HR in no less than 10 extensive process design sessions. The sessions were designed to look at current practices, from both a systems and business perspective, and look for opportunities to streamline them. Her extensive knowledge makes her an excellent representative of OREP in all circumstances.
Danita Seenarine – Food Services, Spaces & Experiences
For more than 20 years Danita has been an integral part of the service team in the dining hall at Chestnut Residence. With her sparkling and warm personality, daily positive interactions with Danita make an eight month stay at Chestnut feel more like home – an important element when the student is hundreds or even thousands of miles away from their actual home. Arriving on shift early each morning, Danita is often the first face that students see when they leave their rooms to begin their day. With a beaming smile, and often a song on her lips, Danita is a ray of sunshine on even the greyest of mornings.   As an employee, Danita holds herself to a high standard. Dependable and punctual, providing assistance and guidance and with a strong work ethic, she is a great role model to other staff.

Bhim Mansingh – Food Services Driver, Spaces & Experiences
Bhim Mansingh is a driver for Food Services, who joined the team as a result of the Aramark transition in 2016, but has worked on campus for more than 30 years. In fact, he knows the campus so well, that he is regularly used as a "master wayfinder" resource by team members, and has assisted lost staff, students, faculty and visitors (and even one AVP of Ancillary Services), on many occasions. He knows where every ramp and elevator is and can plan a multi-destination route around campus in his head, faster than most of us take to figure out where the first delivery is. In addition to his incredible efficiency, Bhim is unfailingly pleasant and reliable. Clients frequently cite his friendly attitude and his attention to every little detail.

Rossana Santos – room attendant at Chestnut, Spaces & Experiences:
Rossana is mother of two young children and came to Canada in 2006 on the live-in caregiver program. She now works in the housekeeping department at Chestnut and has been with the University of Toronto for seven years. She goes above and beyond helping our students feel comfortable and relates to having lived in a dormitory herself during her nursing program back home.  Rossana notes that "being an immigrant myself, I know what it feels like to be away from home. Even if the students are from Canada, but from other cities, it still is different for them when it's their first time being away from their parents. I like for them to know that there is someone here for them, that they have a safe and clean place to come back to after school and that someone is here to take care of them". We love that she walks in everyday with a smile and approaches everything so positively – it's an absolute pleasure to work with her.
Costas Catsaros, Director, Project Development, UPDC
Costas Catsaros has been a pillar of stability and strength in UPDC these past 6 years, leading the Project Development team, which recently expanded to include Project Controls like Permitting, Construction Procurement, Document Control and Quantity Surveying. Always willing to help, he carried several of the key UPDC Chief responsibilities prior to my arrival. And despite the economic and industry challenges with soaring escalation, strikes and supply chain issues, Costas continues to approach his pivotal role in UPDC with dedication, professionalism, and a smile. I am pleased to present the Service Excellence award to Costas on behalf of all UPDC.

Alice Ng, Executive Assistant to the VP, Operations & Real Estate Partnerships
As EA to the VP of the largest shared service portfolio, Alice's responsibilities and related tasks are often complex, requiring a particular astuteness and diplomacy, not to mention superior organization skills! She manages Scott's somewhat "involved" calendar and is our office's de facto business officer, not only for our books, but for the Simcoe Hall and legal accounts. Alice is resourceful, innovative, and proactive, thinks independently, and is a natural decision-maker, with an ability to act under pressure and display good judgement. Her institutional knowledge is a great advantage as our portfolio's activities and reach have extended, and she is a natural resource and mentor to the portfolio's other EAs. We couldn't do what we do without her!
(Photo credits: David Koufis)
Related posts