(all photos but the one of her by Jaclyn Shapiro)
Read more about our award winners below:
The OREP Impact Award

– NEW!
The Impact Award has been designed to recognize individuals or teams who, above and beyond their regular roles and responsibilities, have developed, revised or implemented a system, tool, process, initiative or program, which concluded in the last calendar year, that had a positive impact within their unit or portfolio, or across the University. The new Impact Award replaces the previous Outstanding Individual Employee and Outstanding Staff Team Awards.
To be considered for the award, the nominee must have made an impact in at least one of the following ways:
enhanced service delivery;
created efficiencies;
enhanced productivity;
supported sustainability efforts;
enhanced the university environment and/or experience; or
decreased organizational risks
Impact Award Winners (Individual) 2022
Brooke Gregoire, Catering Manager, Food Services, Ancillary Services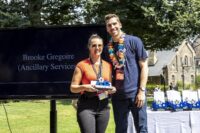 Brooke's responsibilities include daily management of St. George Catering, U of T's own campus catering business. The impact of Covid-19 was devastating, as the campus community worked from home, and face to face meetings were replaced by MS Teams and Zoom calls. St. George Catering went from having its best fiscal year ever in 2019/20 to nothing in March 2020. Never one to let circumstance keep her from trying to find new and different sources of revenue, Brooke developed several programs to keep St. George Catering relevant in the time of Covid. These included home delivery for Teams meetings and gifting programs such as charcuterie bags, sweets, etc. which could be home delivered or provided to clients for pick-up on campus. These proved relatively successful and will continue to be developed in the years ahead.The true innovation in service that Brooke developed, was a new way for clients to organize and place their catering orders. This system we refer to as Collaborative Ordering, and to our knowledge is unique in the Toronto area. The Collaborative Ordering platform has proved extremely popular with our client base and provided a true point of differentiation in our highly competitive catering marketplace. This is a wonderful example of how an attempt to offset downturns in business has become a very attractive service offering to our campus community. We will see the benefit of this new program for many years to come.
Christine Kellowan, Construction Legal Counsel, UPDC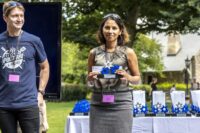 Christine joined in the University in May, 2021. She engaged in a review of the University's construction and procurement processes for all three campuses. She found that there was a duplication of external legal expenses and University efforts with respect to the preparation of construction and procurement documents. In the fall of 2021, she formed the Tri-Campus Harmonization Working Committee "TCHWC" with members of all three campuses to harmonize construction procurement and contract documents. This process has allowed members of the three campuses to share their concerns about University documentation and improve that documentation. To date, the TCHWC's outcomes include standardization of the supplementary general conditions for the stipulated price contract for all campuses and updated procurement documents. She shares key legal updates with the TCHWC and maintains a Sharepoint site for the various templates that have been prepared. Christine is continuing to oversee the harmonization of supplementary general conditions and procurement documents.
David Kim, Dean of Residence and Director Student Life, Chestnut Residence, Ancillary Services
Throughout the entirety of the pandemic, Dave has shown a constant willingness to go above and beyond for the students under his care. This was highlighted starting with the development of the quarantine program which allowed students to have a safe space to quarantine in the early parts of the pandemic. However, his commitment went beyond this as he took on the responsibility of developing and managing a new residence with 1 month notice of student arrivals due to an over acceptance of first year students. During this one month, he hired an operational team, assisted in hiring a student staff team, and facilitated the move-in of first year students. He took this challenge head on by hiring a team, providing the foundation for this team to thrive, and ultimately continue to provide commit to the institutions First Year guarantee for incoming students.The Chelsea Hotel operation wasn't without its challenges but Dave's leadership and willingness to push through any obstacles allowed his team to thrive and continue to serve its students. Whenever there was a significant roadblock, Dave would be at the forefront providing opportunities for his team to overcome or removing them himself it that was required. Ultimately, without Dave's guidance, the operation would not have been successful or able to support students in the ways that it did. Personally, his mentorship and vision allows staff to develop their own management and leadership skills.
Anna Kulikov, Senior Manager, Business Improvement and Strategic Initiatives, Facilities & Services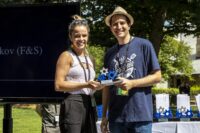 Her commitment to SAP Implementation Project has been immense. After a few folks were not able to continue working on the project, she stepped up and took on those responsibilities. An example is working on the Functional location data preparation, the backbone for all other data objects. At the same time, she was still heavily involved in the Steering Committee. She was also available to offer support to the groups and individuals.
Klara Kovarova, Assistant Dean, Residence Life, Chestnut Residence, Ancillary Services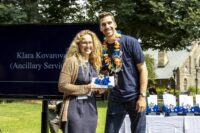 Klara is the perfect candidate for this award due to her commitment to the quality of her work, her team, and ultimately, the students that she serves. Over the past two years of the pandemic, Klara has demonstrated incredible resiliency, empathy, and care for members of her team and the students in residence despite the many challenges that have been faced. At a time when most individuals were dealing with isolation and not able to leave their room or to have guests, she spearheaded an initiative that involved going door to door to check in on residents and offer support. This was very needed at a time when most people living on campus were in circumstances that offered very little in person contact as our dining halls were closed for in room dining, classes were delivered online, gatherings were prohibited, and residences had no guests policies in place. By organizing an initiative that had members of the Residence Life Team going door to door, this offered the opportunity for members of the team to greet and interact with students in person and for the students to meet the team that was working "behind the scenes" to organize events and activities for the community. Her persistence and drive to make sure each student was supported also extended to steering our self-isolation program whereby students that had tested positive to COVID or were required to self-isolate for other reasons could not leave their rooms anywhere from 5 days to 2 weeks. This can be quite challenging especially These mark only a few examples of the exemplary work she has done over the past couple years which, along with her positive attitude and genuine care for others, make her a great candidate for this award.
Pascal Loucadellis, Client Care Services Manager, EASI, ITS
Pascal's immediate responsibilities centered around the support of the executive at Simcoe Hall. During this past year however, he has also been the primary contact for all the DW client groups facilitating device receipt and distribution from a central location. With Pascal's attention to detail and streamlined procedures, we were able to move over 50% of our client group to a mobile workforce on InTune devices. This process minimized disruption to the clients by delivering devices directly to people's homes. On-site support was scheduled in advance with necessary safeguards and added one on one training. Numerous clients during this process echo Angela Hildyard's comments regarding Pascal – "he has the patience of a saint, and I am so grateful for all the support he has given me''.In addition, Pascal designed the new DW desk standard and workstation equipment guide for the digital buildings as he helped plan for our clients' physical relocation to the Fitzgerald building in the Fall. To ease the procurement process for DW business officers, these recommendations were introduced into uSource. Finally, Pascal pitched in at the very last minute to coordinate IT support and setup for the new Vaccine Centre at the McCaul Exam Centre. Timely, reliable, efficient are words that regularly describe Pascal's character, but I would also add that with his leadership at Simcoe Hall there has been a vast improvement and level of satisfaction among our clients. Most importantly, during the pandemic the added efforts of Pascal instilled tremendous confidence in our services!
Jackie Shapiro, Graphic Designer, UDCS Marketing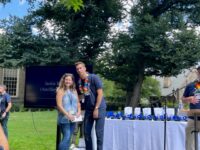 Two nominations!
Jaclyn is always amenable when it comes to team asks. She has the ability to work quickly and offer solutions for tight deadlines, or seemingly impossible design asks. She brings a wealth of knowledge to the table that she utilizes to help her team mates. Her understanding of the University has been a huge benefit to coworkers like me, who are new to the St. George Campus. She is a leader and guiding presence within the department. Jaclyn never fails to amaze with her wealth of knowledge and positive attitude.Jackie was onboarded during the pandemic and has risen to every challenge. She is enthusiastic and creative and exceptionally talented. She has weathered challenging internal work issues with politeness, wisdom and grace. She is great to work with and the backbone of our great team. She has created outstanding creative collateral for our team and for many departments at the university, always on brand and always using the most up to date trends/technology. A valuable asset indeed.
Luke Sutherland, Business & project Analyst, Information Security, ITS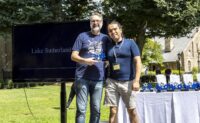 Luke Sutherland is a vital member of the Information Security team. Luke's work has positively transformed how service is delivered, while creating efficiencies, instilling innovation, and decreasing organizational risk. More specifically he has: Transformed project delivery while creating efficiencies and enhancing productivity ; Created a valuable experience for the Information Security team to instill innovation and collaboration ; Decreased Organizational Risk by actively working with the UofT community to address security vulnerabilities. The examples above are just highlights of the work Luke does for Information Security. For everything he does, he deserves this recognition.
Impact Award Winners (Team) 2022
REDCap Team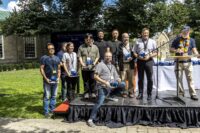 Collaborating very closely with KPE and the Centre for Research & Innovation Support (CRIS), an interdisciplinary team from ITS developed and implemented an enterprise Research Electronic Data Capture (REDCap) online survey service, which has been used by over 1,300 researchers so far. Beyond "just" launching and managing a successful new service, this award is being presented because for the first time at the University, an enterprise service was created and is managed in a fully cooperative venture with an academic division (KPE) and another shared division (CRIS/VPRI).
Members:
Jeremy Graham
Alex Nishri
Joseph Lam
Sue McGlashan
Jae Chung
Siqi (Tim) Zheng
Amar Dholakia
Vince Borghese
YongJoo Lee
Bryan Ekeh
Aaron Lane KPE
Ryan Lyn, KPE
Prisca Obierefu, CRIS/VPRI
CFI Innovation Fund Team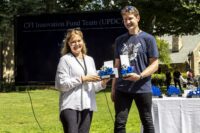 The Canada Foundation for Innovation (CFI) supports Canada's universities, and other public institutions, to increase their capacity to carry out high quality, impactful research and attract world-class researchers from around the world. Every 2-3 years, they put out an Innovation Fund (IF) call and institutions run through a highly competitive process. At UofT, the process has multiple internal steps as many applications vie for a defined/limited threshold of funding value. In 2021, the Office of Research Services approached Project Development (PD) and requested formal costing support for applications pursuing the 2023 CFI-IF call. Despite an extremely heavy 'regular' work load, and with no prior formal arrangement, PD took on the request. significant improvements could be made to the protocols and processes affiliated with communications, documentation and reporting. Under their own initiative, and in the spirit of improving processes critical to the University's success, the team crafted guidelines which will now be made into a formal playbook that will be used for all future CFI-IF calls.
Members:
Laragh Halldorson
Michael Clesle
Rajko Jakovic
Addressing Log4j Vulnerability Team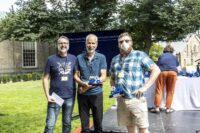 On December 9th 2021, a new high risk security vulnerability called Log4j was uncovered. The vulnerability was present in Java, which is a software used worldwide and, in all industries, underpinning critical applications. It was considered high risk because it was widely available, easy to exploit, and it did not require high levels of expertise to be used by malicious actors. Given the severity of the risk, the Information Security team mobilized the community in a different way by creating several communications channels, where everybody involved in the effort could collaborate and share their ideas, latest developments and threat intelligence on how this vulnerability could have impacted their own environments. The community was actively solicited to participate and the input from all involved was essential to get a sense of the overall organizational risk and what we were collectively doing to address it. This was a gigantic team effort and well worth the recognition to all involved.
Members:
Carl Chan
Michael Buzny
David Auclair
Axel Schulz
Romel Sargezi UTSC
Akshat Mishra UTM
Chris Finley Libraries
Frank Boshoff
Gabriel Moga
Andrew Wagg
Sue McGlashan
Elias Karamitsos (UTSC)
UofT Pension Plan Conversion Team
The University of Toronto made the decision to convert the UofT Pension plant to the new jointly sponsored University Pension Plan Ontario (UPP) on November 12, 2020, to be effective July 1st, 2021. This project was exceptionally challenging for the EASI-HRIS team. UPP's pension programs, processes, and procedures were quickly evolving to meet a target date of July 1st, 2021, so the UofT Benefits and HRIS teams needed to remain flexible in their approach. Technology requirements were especially complex and often provided piecemeal, requiring a high degree of ingenuity and agility by our HRIS technical team to meet critical project deadlines. As a result, the team was required to test and redesign the current AMS pension configuration repeatedly while meeting tight timelines and deliverables imposed by Alight, our pension provider, as well as partner institutions. The HRIS team was successful in delivering this new innovative pension program all while maintaining a high level of daily HRIS support to AMS, Payroll Support, Kronos, SuccessFactors Recruitment, Performance Management, etc.
Members:
Helene Daviau
Yimei Zhao
Kelly Gao
Barb Der
Parviz Moinipour
Vaishnavi Varadarajan
Ian MacEachern PSEC
Barrie Butteree PSEC
Andrew Mills PSEC
Keithann Newton PSEC
Joe-Anne Vanhorn PSEC
Joyce P. Wong PSEC
New Compensation Planning Tool Team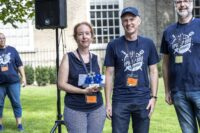 This award is for the successful Development and Implementation of the new Compensation Planning Tool (CPT) which was a joint project between P&B and ITS. While a third party tool showed great promise during the evaluation, a substantial amount of effort was then required over the following years by the University and the supplier to modify and further develop the tool to meet the requirements of the University. Unfortunately, by the spring of 2021, it was clear that the remaining performance issues with the tool could not be sufficiently addressed to meet the needs of the University. Recognizing that a new tool was still urgently required by the University community, the CPT project group pivoted to focus on a redevelopment and expansion of the existing legacy B6 tool. Over the course of the summer 2021, the development team worked to expand out the legacy tool into the new CPT. Through their initiative, creative thinking, and hard work, they managed to meet all of the key requirements for the new tool such as multi-year planning, salary increase funding planning, and extension of the tool to include non-appointed groups over an extremely compressed timeline.
Members:
Jenny Cheng
Elizabeth Flannery
Dennie Ip
John Ogg
Kim Chan
Vaishnavi Varadarajan
Dana Pogaceanu
Katie Babcock
Cognos-Tableau Migration Project Team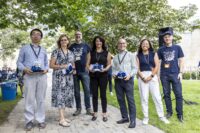 The Cognos-Tableau migration project involved transitioning data cubes and reports from the Cognos technology to the Tableau Server environment, while also leveraging the new Azure cloud platform. This project was critical for the institution as the Cognos technology was at end of life and no longer supported by the vendor. As such, a significant number of Cognos cubes and reports needed to be migrated within a 1-year timeframe. Among these data cubes were those that support student accounts, admissions, enrolment and were used by hundreds of users across the 3 campuses. As such, this was a priority for P&B which committed a large team to this effort.
Members:
Asmaa Maloul
Anton Kruger
Louise Tardif
Michael Green
Yuliya Cherevko
Alex Agostino
Milla Motrich
Adrienne Kasiban
Jeff Waldman
Kelly Raposo
Andy Chien
Brenda Boshoff
David Wang
Legacy Email Decommissioning Team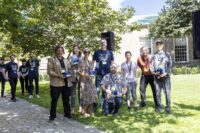 UTORMail posed a significant security risk to the University due to the issues associated with aging infrastructure and dated software. With a 6-month timeline, this team worked diligently to decommission the legacy email system UTORMail. With over 300,000 users, this was no small feat. The team worked evenings and weekends to move active users to new services while minimizing disruption to their email access. A support hotline and helpdesk were set up to resolve account issues and we answered over 1,200 ticket enquiries. Partnering with DUA, we created a new Office 365 email offering for our alumni community. Working with Student Life, we reimagined our engagement with student organizations by establishing new email domain for their communications needs.
Members:
Vicki Vokas
Natalie Yeung
Hong Zhu
Ian Thomas
Gerald Lindo
Kathleen McLeod
Vince Borghese
Peter Ip
Planning and Re-Entry Advisory Group Team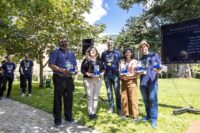 In June 2020 during the height of the COVID-19 pandemic, the Planning and Re-Entry Advisory Group was established as the cross-portfolio "GO-GO-GO" operations team to bring our students, staff, researchers, and faculty back to our campuses safely and gradually. Throughout the various waves of the pandemic, the team was nothing but agile – pivoting several times to plan and guide the implementation of initiatives such as the UCheck health screening tool, proof of vaccination module, rapid antigen screening program, pop-up vaccine clinics, and wastewater monitoring in residences program. Over 100,000 rapid screens were disseminated, with nearly half a million community members vaccinated through our clinics, and over 110,000 unique vaccine declarations collected and verified. The group oversaw the evolution of the ventilation and caretaking strategies throughout the pandemic and as well as the deployment of 1,000+ classroom HVAC assessments and 900+ air purifiers across campus and worked tirelessly behind the scenes to develop and successfully implement our 12-step safe return to campus. Thanks to their dedication, we have been able to increase activities on campus and are closer to returning to a vibrant campus life.
Members:
Cathy Eberts
Farah Ally
Mary Byrne
Romy Thomas
Rachel Tennant
Jennifer Puskar
SAP Plant Team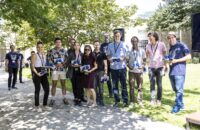 In the spring of 2022, a cross-portfolio team from Facilities & Services (F&S) and Enterprise Applications and Solutions Integration (EASI) as well as supporting members from Human Resources successfully implemented a series of SAP-based applications that transformed the asset and management maintenance processes using an integrated digital ecosystem. This implementation supported F&S in improving stewardship of campus buildings, grounds, and utility assets through mobile work order management, a central repository of equipment data, automatic scheduling of maintenance, management reporting, and more. The team has laid the groundwork for moving towards a more preventive maintenance model and in the future – exciting data-driven predictive maintenance. This system will manage all F&S service requests, maintenance processes, and asset management.
Members:
Alex Stamatakos
Andrey Pletnev
Anna Kulikov
Antony Ndugi
Barry Espin
Carley Moffat
Christine Tan
Derek Liu
Fabio Gorgatti
James Alexandre
Jason Delgado
Jeffrey Avramenko
John Ogg
Jozef Nowogorski
Keith Foster
Mandy Yip
Nebojsa Marusic
Nelson Resendes
Noel Butler
Paul Littlefield
Praveen Narayanaswamy
Reno Strano
Robert Capone
Sean Collins
Tushar Pradhan
Verono Kwok
Food Services Team at 89 Chestnut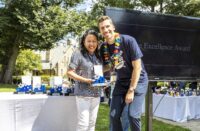 When we think of who has made a significant impact in lives during the pandemic, Gloria, Lily, Atalla, and Karim come to the forefront. They enhance the university environment and experience for every student that they serve in their role as cashiers at the Chestnut dining hall. Throughout a period of intense alienation and social upheaval, they worked to create welcoming and familial environments for students in residence. They knew students by name and greeted them on a daily basis. Each of these individuals brought a familiarity and level of care that was an essential and invaluable addition to the lives of students at Chestnut Residence.
Members:
Gloria Rasing
Lily Hadage
Atalla Savory
Karim Jiwani
Distinguished Service Award Winners 2022
Presented to an employee with more than 15 years of service at the University who has made outstanding contributions that go beyond the ordinary fulfillment of the position's duties.
Alan Truong, Manager, Security Systems and Services, Campus Safety, Facilities & Services
Alan has been a valued and respected member of the Campus Safety Service for over twenty-one (21) years. During this time, Alan has served in such capacities as Constable, Corporal, Staff Sergeant and now Manager of Security Systems & Services. Alan has taken on numerous projects over the years such as implementing the new Emergency Telephone System (TELS) which is the Campus Equivalent of 911 within the Tri-Campus Communication Centre, VOIP Integration, Member of the Emergency Response Team within the University Crisis and Routine Emergency Framework and has participated in the implementation of the SAP Plant Maintenance & Asset Manager software within the F & S Call Centre. Alan has participated in numerous Community Policing initiatives such as the Special Olympics, Charity Hockey Games and has acted as the Lead Campus Safety Manager during Convocation Ceremonies.
Carl Chan, Information Security Supervisor, ITS
Carl Chan is an outstanding member of the Information Security Team and has progressively worked in multiple roles spanning more than 15 years across the University of Toronto. Although Carl is relatively new to institutional Information Security team, he has created a positive impact in delivering and supporting services, going above and beyond to foster collaboration with the community and partners alike. Some of the examples of his lasting legacy are:
Demonstrated strong leadership to accelerate adoption of security capability needed to address immediate and critical risks
Significantly reduced the risk for the university through strong collaboration with the community
Transformed incident response capabilities through coaching and relationship-building
The examples above are just highlights of the ongoing work done by Carl. He is excellent in what he does and given his deep knowledge, positive attitude and the effort that he has put in building strong relationships with the community, he deserves to be recognized for his contributions to UofT.
Carlos Ponte, Service Worker Caretaking, Building Services, Grounds & Trades, Facilities & Services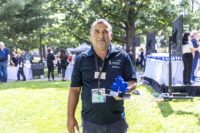 Carlos started at the University of Toronto over 25 years ago as a Service Worker in the Caretaking department. Over his 25 years of service, Carlos has work in different buildings on campus Robarts Library being one of the buildings where he worked for many years. Over the many years of service, Carlos has demonstrated exceptional work ethic, he takes great pride in his work and will go the extra mile to ensure exceptional customer satisfaction. He is a great team player always ready to land a helping hand to anyone who asks. He demonstrates outstanding customer service skills and models respect to those around him. Carlos's determination to provide a safe and healthy environment for all members of the University Community has not gone unnoticed by his superiors and clients. His dedication, loyalty and commitment to our department and the University Community have not gone unnoticed. On behalf of Facility & Services, Caretaking Department, we would like to thank Carlos for his irrefutable efforts throughout his many years of service.
Christine Davidson, Business Officer, Property Management, Facilities & Services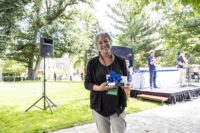 As the business officer for the Property Management Group, Christine is critical to our success on keeping the large volume of project financials moving which keeps the Client and F&S projects going. She has the patience to listen, teach and advocate for better efficiencies within the department. Her knowledge and expertise ensures the Property Managers are on track and can implement amazing services throughout the University. The two separate nominations Christine received spoke to her being an "all around excellent person, dependable, with a positive attitude" and her skill at being able to deal with "the many admin staff changes she has had to adapt to just in the last three years."
Dana Jotevski, Office Coordinator, Campus Safety, Facilities & Services
Dana has been a valued and respected member of the Campus Safety Service for over fifteen (15) years. During this time, Dana had served as the Administrative Assistant to the Director of Campus Safety. Because Campus Safety is a 24/7 operation, sometimes things arise outside of business hours, Dana is more than an Administrative Assistant, day or night, Monday – Sunday, Dana is always available when required. Whether it is ordering new uniforms and equipment for Campus Safety Officers, driving to vendors to pick up new badges or uniform patches, Dana is ready to assist. Dana has a strong business background which assists the Director in budget preparations, forecasting and billing. Every member of Campus Safety relies heavily on Dana to ensure they have the tools to complete their job. From Pens, Paper, Pencils, Clothing, Coffee, Dana ensures we never run out. After all, there is nothing worse than not having what you need when it is 2:00 am.
Doug Colby, Working Foreperson, Hazardous Construction Materials Group, Facilities & Services
Doug Colby joined the University of Toronto in 1998. In his 21+ years of service to-date, he has been an exceptional team member and a source of invaluable specialized knowledge and experience to the University. Doug has always been a pleasure to work with. He is a trusted expert in the area of asbestos management practices. Doug is always ready to help and collaborate with his peers. He provides excellent customer service to several teams such as Capital Projects, Property Management, and the many F&S trades, and EHS. He supports his team in being successful in their highly specialized area that is critical to campus health and safety in his role of Foreperson. In his long service to the University, Doug has developed extensive knowledge of clients, buildings, and operations, in addition to his expertise in designated substances under the Occupational Health and Safety Act. Doug also supports EHS and the University community by conducting regular tri-campus trainings. Doug is one of the original members of his team and has been an important figure at the University in the development of the very thorough management practices for asbestos. This includes worker training, ensuring any asbestos removal work is done to standard and inspected, assisting to resolve any incidents, and completing the annual update to the asbestos database. Demonstrating his on-going commitment to lifelong learning and professionalism Doug has successfully written the Board of Canadian Registered Safety Professional exam to acquire his CRSP designation. Doug is currently enrolled for accomplishing his Certificate in Health, Safety and Environmental Processes at the Fredericton University.
Gordanka Dimovska, Caretaking Leadhand, Building Services, Grounds & Trades, Facilities & Services
Gordanka started at the University of Toronto over 16 years ago as a Service Worker in the Caretaking department. Over her many years of service, Gordanka has work in various buildings on campus. Sidney Smith being one of the buildings where she has worked for many years. Through her hard work and dedication, she was promoted to Leadhand. Gordanka, leads her team in ensuring the cleanliness in the building is at high standards. She goes the extra mile to ensure customer satisfaction; she promotes a positive and respectful working environment for all those around her. She is always ready to assist in any project; she is energetic and has a positive attitude. Gordanka's dedication, loyalty and commitment to the University Community have not gone unnoticed. On behalf of Facility & Services, Caretaking Department, we would like to thank Gordanka for her dedication and contribution throughout her many years of service.
Guiomar (Gigi) Novais-Juradinho, Caretaker, Building Services, Grounds & Trades, Facilities & Services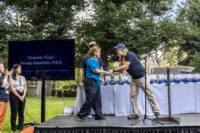 Guiomar (Gigi) started at the University of Toronto 25 years ago as a Service Worker in the Caretaking department. Through her hard work and dedication, she was promoted to Caretaker. Over the many years of service, Guiomar, has demonstrated exceptional work ethics, she takes great pride in her work and will go the extra mile to ensure customer satisfaction she always does this with a smile. She anticipates potential issues and tries to resolve them before they happen. She is a great team player and is always ready to help in any situation. She takes on extra work when short staff to keep the operation running smoothly. Guiomar models great respect to everyone around her. She is determined to ensuring a healthy and safe environment for all members of the University Community. Her dedication, loyalty and commitment to the University Community have not gone unnoticed. In the words of one of her clients "We are truly blessed to have someone like Gigi here at Student Life!"On behalf of Caretaking Department, Facility & Services, we would like to thank Guiomar, for her irrefutable efforts throughout her many years of service.
Libera Petrini, Financial Operations Manager, University Planning, Design & Construction
Li has been a valuable member of the UPDC team for the last 15+ years. Li's wealth of knowledge in project management from the initiation to completion of projects is instrumental in smooth transition of all new and existing staff in the department. With detailed and procedural knowledge of the UofT protocols for capital projects, CaPs and B6 etc. Li's valuable input in financial management of the capital projects (sharing her knowledge regarding processes and potential improvements), serving on various special projects such as B6 vendor procurement and capital portal(s) has been extremely useful in creating efficiencies, service delivery of projects leading to enhanced productivity and minimizes the risk (such as audit) for the University. Li shares her knowledge with co-workers, project managers, senior managers, and counterparts free of hesitation to ensure quality service delivery is maintained. Li is the backbone of the Project Management team in all aspects.
Maria Connie Peixoto, Caretaking Leadhand, Building Services, Grounds & Trades, Facilities & Services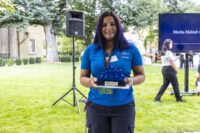 Maria Connie is an amazing, dependable, extremely efficient, and highly professional worker. She is always prepared to take on new tasks and responsibilities. Maria started at the University of Toronto over 20 years ago as a Service Worker in the Caretaking department. Over her 20 years of service, Maria has work in various buildings on campus. Through her hard work and dedication, Maria was promoted to Caretaking Lead Hand and years later to Caretaker. Over the many years of service, Maria has demonstrated exceptional work ethics. She takes great pride in her work and will go the extra mile to ensure customer satisfaction. In the words of one of her clients "She is happy, friendly and I know that we can count on her." On behalf of Caretaking Department, Facility & Services, we would like to thank Maria for her exceptional efforts throughout her many years of service.
Mezba Mahtab, Software Specialist, Facilities & Services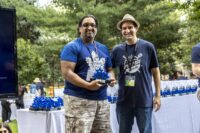 Mezba has been with UofT since 2002, so has 20+ years of distinguished service. Two separate nominations were received which praised his strong work ethic, and his contribution to a positive community at the University of Toronto . Mezba "always adds a little bit of life and fun into work meetings and projects. During the pandemic, he would often post upbeat memes and relevant news in our team chats and keep us socially engaged". Mezba's creativity in finding solutions, the initiative he takes and the invaluable experience and breadth of knowledge he brings to everything he works on was also mentioned in the nominations. Congratulations, Mezba!
Mike Caskenette, Staff Sargeant, Campus Safety, Facilities & Services
Mike has been a valued and respected member of the Campus Safety Service for over thirty-one (31) years. During this time, Mike has served in such capacities as Constable, Corporal and Staff Sergeant. Most recently, Mike served as the Interim Manager of Campus Safety at the UTM campus for a period of eight (8) months before coming back to the St. George Campus. Mike has been the Tri-Campus Chief Mountain Bike Instructor for the past twenty years and is certified as an instructor within the International Police Mountain Bike Association. Mike has also taught safety riding skills to Building Patrol and Facilities & Services staff to ensure all members of the F & S team have the knowledge and skills to safely maneuver throughout the city. For the past fifteen (15) years, Mike has been the Campus Safety liaison with the Faculty of Engineering and the Engineering Society (SKULE). Mike continues to be the Lead Campus Safety Manager for all Convocation related events and has received training with the Event Safety Alliance Group which is an experience driven and science-based workshop designed to assist venue professionals prepare for and respond to dangerous weather conditions. This has assisted in ensuring the safety of Community Members and guests during numerous outdoor events such as Convocation and Summer Camps.
Peter Solu, Senior Specification Writer and Estimator, Design & Engineering, UPDC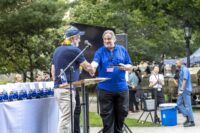 Peter joined the University in October of 2006 as Senior Specification Writer and Estimator in Design & Engineering. Peter quickly became, and continues to be, a key member of the Design & Engineering team delivering successful renovation projects to the University community. Over the past 15 years, in addition to experience previously gained through his work in the private sector, Peter has developed a body of knowledge about the University, construction projects completed by D&E, and the University's policies and processes, all of which are a considerable asset to the University. Beyond having gained this broad experience and knowledge, Peter shows great generosity of spirit in his willingness to share this knowledge broadly. On occasions too numerous to count, Peter has taken time out of his workday to share with other staff, both seasoned and new University employees, any information he has, or can obtain, that will assist them. Peter is a great asset to the department. This award recognizes his outstanding contribution that goes well beyond the ordinary fulfillment of his role at the university.
Richard Ho, Building Patrol 1, Campus Safety, Facilities & Services
Richard has been a valued and respected member of the Campus Safety Service working as a Building Patrol officer for over fifty (50) years. For five decades, Richard has helped keep the University of Toronto safe and secure. He has maintained an impeccable attendance record, a great work ethic, a positive and vibrant attitude and unparalleled experience which is utilized in assisting less experiences security officers daily. You will find Richard patrolling the Medical Science Building and CCBR throughout the afternoons and evenings on a full-time basis. Richard continues to form strong partnerships within the community he serves and with his fellow U of T coworkers. Congratulations and thank you for your decades of service!
Roy Bagnarol, Plumber – Leadhand, Trades & Services, Facilities & Services
Roy Bagnarol joined us in Trades on April 5th, 1994. He was promoted to lead hand in the Plumbing shop. His commitment to leadership and teamwork amongst the plumbing shop has been essential in motivating and molding the crew into an effective and impactful trade on campus. Roy has built the respect of his team players as well as the rest of the shop in the years he has been with us.
Shermohammad (Mohammad) Hajeeyani, Room and Public Area Attendant, 89 Chestnut Residence and Conference Services – Housekeeping, Ancillary Services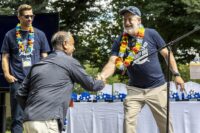 Shermohammad (Mohammad) Hajeeyani is scheduled to retire in December 2022 after a long and distinguished career at Chestnut. A veteran of 89 Chestnut from its days as a privately managed hotel, Mohammed joined the University when the former Colony Hotel was converted to a student residence in 2003. During that time Mohammad has earned a reputation for hard work, dependability, exceptional commitment to high standards of service, and dedication to Chestnut's students and staff. In his role Mohammed keeps the floors and carpets in Chestnut's many public spaces looking their best for residents and guests, and is on the front line to respond to floods and emergencies. Although his shift starts at 6:15am he is on site at 5:30pm to jump into the day, and to lead cleanup operations on any overnight floods (and there are many). He has been nominated for a Distinguished Service Award, with gratitude for everything he has done for Chestnut, its students, and its staff. When he finally does embark on a well-earned retirement, he will be greatly missed.
Ted Mctavish, Senior Mechanical Systems Analyst, Utilities, Facilities & Services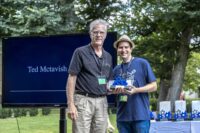 Ted has worked at the university since 1978, 44 years. Ted's role, coordinating all incoming project documentation received from UPDC or Property Management requires constant insight into 150 plus UPDC projects, and at least that many from Property Management at all stages of completion. Additionally, Ted coordinates reviews, follows up on project non-conformances ensuring fully documented commissioned closure of all projects. Ted has been incredibly valuable in highlighting project closure quality often thanked by the client due to his diligent follow up. Ted also plays a critical role in Utilities budgeting. He maintains records of the consumptions and rates for the purpose of forecasting and budgeting for the campus utility(gas/water/oil/steam) usage. He also assembled the annual OAPPA energy Survey back in 2015. Overall, Ted's work world is often incredibly dynamic in an environment bounded by UPDC, Property Management, Trades, Utilities and Building Operations attempting to gain closure. Often client expectations, and deliverables do not align, Ted consistently provides guidance through the transition with quiet determination, understanding often providing advice. I truly believe Ted is an unsung person supporting the University with continued compassion and respect.
Tony Goncalves, Special Constable, Campus Safety, Facilities & Services
Tony has been a valued and respected member of the Campus Safety Service for over eighteen (18) years. During this time, Tony has served in such capacities as Constable, Corporal, Training Officer and Acting Sergeant. Tony is currently a certified instructor within the International Police Mountain Bike Association and has trained numerous Tri-Campus Special Constables over the years to ensure officers have the skills and knowledge to ride confidently and safely. Tony has received numerous accolades and letters of accomplishment from community members over the years and has been recognized by the Toronto Police Service for his outstanding Leadership and Partnership. Tony continues to participate in numerous Community Policing initiatives such as the Special Olympics, Charity Hockey Games and working with Student Groups.
Victoria Orr, Manager, Residence Life and Admissions, University Family Housing
Victoria has worked in the Charles Street, Student Family Housing Community for 30 years and has been an integral part of significant change and growth in our operation. Today, Student Family Housing is a family-focused residential community, housing student families at 30 and 35 Charles Street, in two 21-storey hi-rise apartment buildings. We are an incredibly diverse population of approximately 2000 people, with a significant number of international students from over 60 countries residing in these two buildings. Her nominator writes: "I have worked in four different areas in four very different positions in the University and I can say without any doubt that Victoria Orr has been the best supervisor I've ever had the privilege of working with. She is fair, approachable and always makes herself available to her staff. I've never been turned away from her office door whether I am dropping by to say hello, to discuss a situation I'm dealing with or am in need of some friendly advice. In the past few years as we have all had to deal with exceptional situations in very different circumstances. Victoria has been accessible, available and a constant when so much of the world around us has been unravelling. I really believe that she is not only worthy of being a recipient of this award but that her time is now."
Inaugural Service Excellence Award Winners 2022
This award is presented by units to their unsung heroes…those staff members whom the unit simply could not do without!
F&S:
Harvinder Aulakh, operating engineer, Central Steam Plant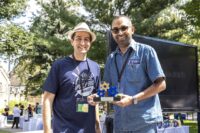 The Facilities & Services team has only positive things to say about Harvinder Aulakh, an operating engineer at our Central Steam Plant. Harvinder is a dedicated team player who always takes initiative to solve problems. He makes himself available to help shift operations whenever needed. On one occasion during a severe snowstorm, some of the operating engineers couldn't report to work. Harvinder—after working his normal shift at the plant—attended to emergency calls so that they could be addressed quickly. Harvinder prioritizes safety and preventing issues at the plant. His past actions prevented filling up the tunnel with steam, which could have damaged the electrical and communication cables in the tunnel.
Hung (Tom) Tang, caretaker, Caretaking Services
The Facilities & Services team would like to recognize Hung (Tom) Tang for his dedication to service excellence.  Tom is a dedicated caretaker and leads his team by example. He's always willing to help when he sees a colleague in need, while continuing to perform his own duties and taking care of special request service orders made by the client. Tom runs the ECOBOT scrub 50, a floor-cleaning robot daily as required and has had the top used machine for almost the entire past year. He always maintains a great attitude during daily shifts.
Leo Viveiros, first-class special constable, Campus Safety
The Facilities & Services team would like to recognize Leo Viveiros for his dedication to supporting Campus Safety staff and the broader community. Leo has been a valued and respected member of Campus Safety for more than 31 years.  During this time, he has served as a first-class constable, acting corporal, and acting sergeant. He has also been a training officer, mentor, and coach to new recruits. Leo has also participated in numerous community policing initiatives such as the Special Olympics, charity hockey games, and the Peace-by-Peace Festival, a conflict resolution and community-building program for elementary school students in the Toronto and York regions. Leo continues to mentor new members of the Campus Safety team on building a strong and vibrant partnership with the university community.
Paul Van Den Enden, journeyperson tinsmith, Trades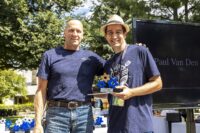 The Facilities & Services team would like to recognize Paul Van Den Enden for his commitment to service excellence. Paul has been a valued member of the Trades team for 15 years. He is known for being incredibly friendly, a hard worker, and someone who takes pride in the quality of his work. During the height of the pandemic, Paul demonstrated excellence and commitment to meeting the evolving needs of our campus. He was dedicated to fulfilling our commitments and meeting timelines as required to improve our campus environment, such as classroom ventilation. Paul's colleagues describe him as "always working and with a smile on his face."
Mark Simpson, Director, Building Services, Grounds and Trades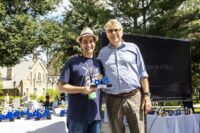 The Facilities & Services team would like to recognize Mark Simpson for being an integral part of the department for the past 14 years. Mark manages caretaking, grounds, trades, campus moving, and hazardous waste, which combine to be the largest portion of the F&S portfolio. Mark is fiercely committed to the mission of the portfolio and the success of others. Mark mentors his management team by looking for opportunities to collaborate and streamline work and to grow both professionally and personally. Over the years, Mark has always been supportive of his team by fostering innovations that have increased productivity and efficiency. We would like to thank Mark for his exceptional leadership throughout his many years of service.
P&B/OREPHR/OREP Office
Elizabeth Flannery, Business Services Officer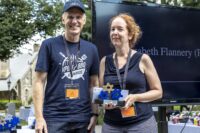 Elizabeth joined the Planning and Budget Office in early 2020, just before the pandemic up-ended our lives. In her primary role, she provides financial services support to four shared services portfolios. These divisions have come to rely on her outstanding level of support and service in helping them run their business operations. We regularly receive fantastic feedback from them on her ability to help solve issues and provide advice on complex financial work. Beyond these core duties, Elizabeth regularly contributes her expertise to other critical files in P&B – always with a patient, efficient, and detail-oriented approach. She willingly goes the extra mile beyond her duties to help others and she is the go-to person for FIS processing and policy related questions in the office. She is a team player who willingly fills in for others who may be ill or on vacation and her upbeat and positive attitude lifts morale in the office.
UDCS:
Umair Mansoor, Transportation Services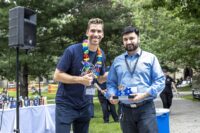 Umair Mansoor has exemplary customer service skills. demonstrating patience, professionalism and problem-solving skills on a daily basis when interacting with colleagues, faculty, staff, students and the University community; he numerous True Blues attest to this. From setting up Teams meetings with permit holders to walk them through the process of changing license plates on their individual accounts or renewing permits, to. creating how-to guides on these processes for our website and to be emailed to clients, Umair always goes above and beyond to assist. He is our go-to person for setting up and problem-solving issues. Umair's work ethic and dedication is exceptional and he has proven to be an invaluable asset to Transportation Services.
Sally Ann Bartholomew, Culinary Department, Chestnut Residence & Conference Centre
It is our pleasure to nominate Sally Ann Bartholomew for a VP OREP award. Sally Ann is a long serving member of the Food Services team at Chestnut Residence, dating back to 2008. Currently employed as a Lead Hand, Sally Ann brings a special sparkle to everything that she does. Her front-line role brings her into contact with students, staff from multiple departments, and her culinary coworkers. Always quick with a smile and a wry sense of humor, Sally Ann's daily tasks include the set up and cleanliness of the main kitchen and food service stations, preparation of foods, and assisting the catering business with the plating of banquet and on campus catering requests. When necessary, Sally Ann always steps up, without hesitation, to help her others complete their tasks and her infectious attitude and personality has a positive impact on the team each and every day. With a joyful laugh and a sparkle in her eyes, Sally Ann is an incredible asset to the culinary team at Chestnut Residence.
Rajaratnam Krishnagopal, Culinary Department, Chestnut Residence & Conference Centre
It is our pleasure to nominate Raj Krishnagopal for a VP OREP Distinguished Service Award. Raj has been a member of the culinary team at Chestnut Residence since the fall of 2003. And a member of the Chestnut culinary crew since 1996. Raj is a wonderful and talented cook, who can be relied upon to always be organized and set a positive example to his peers. Excellent examples of his commitment came about during the work associated with the Hotel Quarantine Program and supporting students in Isolation. Raj was integral to the production of the meals, ensuring accuracy in preparation and delivery to facilitate the needs of 700+ students, many of whom required dietary accommodations. Every day, Raj displays great commitment and work ethic while maintaining a truly positive attitude which makes him extremely popular with his coworkers and extended culinary team.
UPDC:
Brian C. Szuberwood, Interim Executive Director, Capital Projects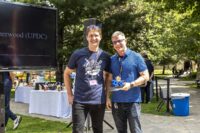 For 21 years, Brian Szuberwood has been a major presence in UofT's Capital Projects department leading high-profile projects, managing our junior PM team, and heavily supporting the administrative aspects of the department. Since the departure of the previous Capital Projects Executive Director last summer, Brian stepped up to plate and assumed the Executive Director role and all the responsibilities that come with leading a large team of professionals, delivering over 100 projects a year. Brian has demonstrated diligence, thoughtfulness, and a deep commitment to the University and the capital project team and exemplifies service orientation and a positive attitude in all of his efforts on a daily basis. Congratulations Brian!
Related posts