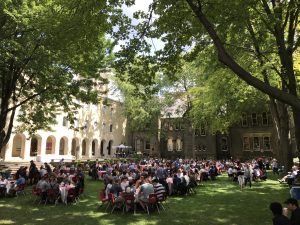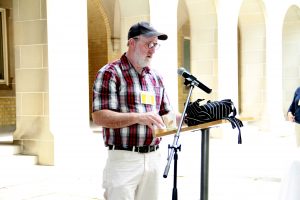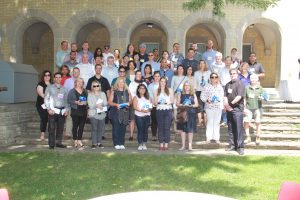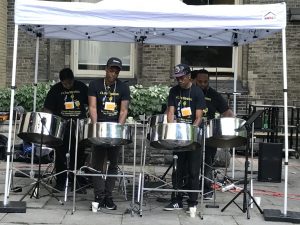 Over 600 University Operations members (almost 40% of our team!) enjoyed delicious food – supplied by our very own Food Services culinary team, and cooked up by leads from all UO units – as well the seasonal  music from steel band JK Pan Vibrations, during this, our 3rd Than-Q BBQ & Awards event.
This is our opportunity to celebrate our entire team, and to honour our often unsung heroes for the great work they do in creatively, efficiently and dedicatedly furthering our mission through our three levels of UO Awards.
Our thanks once again to University College for inviting us back for another year!
Congratulations to all…and read more about your colleagues (and yourselves!) below!
University Operations Annual Staff Achievement Awards Program
The Vice-President University Operations has established the annual Staff Achievement Awards Program in order to recognize exceptional staff contributions to the success of their particular unit, the University Operations portfolio and the University.
The program provides University Operations with an opportunity to thank staff for the valuable work performed throughout the year.
Outstanding Individual Employee Award
Presented to an individual staff member (regardless of length of service) involved in any area of staff work who has made outstanding contributions that go beyond the ordinary fulfillment of the position's duties.
This year's winners:
Peter Johnston, Facilities & Services
Rose Stina, Academic + Campus Events
Reno Strano, Facilities & Services
Gloria Cuneo,  Ancillary Services
Penny Wilson  Ancillary Services
Gloria Rasing, Ancillary Services
Ken DeBaeremaeker, Planning & Budget
Kristina Kazandjian , Ancillary Services
June Cheng, ITS
Michael Cicerani, University Planning, Design & Construction
Read more about each of our Winners in the 2017 University Operations Outstanding Individual Employee Award citations.
Distinguished Service Award
Presented to an employee with more than 15 years of service at the University who has made outstanding contributions that go beyond the ordinary fulfillment of the position's duties.
This year's winners:
Fatima Costa, Facilities & Services
Sandra Levere, Facilities & Services
Diane Lekas, Academic + Campus Events
Margaret Scully, Facilities & Services
Read more about each of our Recipients 2017 University Operations Distinguished Service Award citations.
Outstanding Staff Team Award
Presented to two or more staff members who function as a team and who have taken on a time-limited project.
Kronos Team
Brenda Bannis
Nicholas Prashad
Kelly Gao
Barbara Der
Christina Tsang
Parvis Moinipour
Zac Ryan
Joy Li all from ITS
and from Central HR: Sheryl Vitug
Room Assignment Team
Andy Allen
Anthony Morra
Deepika Tayl
Diane Lekas
Info Security Education Campaign
Tamara Bahr
Tamara Adizes-Jacobs
Chloe Payne
Alex Cybulski
Mike Wiseman
Rajiv Kaushik
Marden Paul
Project Management Drawings Initiative
Audrey Vince
Vanessa Miraples
Sarah Kelly
OUAC Team
June Cheng
Matthew Hendrickson
Gaye Wignall
Diana Augustin
Dharmesh Amalsadia
Nicky Lai
Blair Thomson
Student Accounts project
Kim Chan
Svetlana Opachevsky
John Bassani
Andrey Pletnev
Dana Pogaceanu
Patrick Boal
Richard Chow
Santino Ardizzi
Bruce Hoppe
Kun Chai
Paul Littlefield
Ken Tsang
Bruce Zhu
Haroon Rafique
Paul Day
Evan Moir
Petru Sugarall from ITS,
and from Financial Services:
Lorena Gaudio
Audrey Cheung and
Ruth Bonifaz
VPUO HR, Food Services insourcing HR support
Erin Noble
Janel Nguyen
Bellmia Ravindran
Monica Seymour
Read more about our Winners and their innovative projects in the 2017 University Operations Outstanding Staff Team Award citations.
Congratulations to all!
And did we mention great prizes? These were supplied by our own units, and competition was fierce!
Some of the prizes available were
2 prizes of 1 month free parking or 1 month free TTC card (Transportation) – 1 was already awarded to Glenn Fraser of F&S as our Early Bird prize
Steam Plant Tour (F&S)
Campus Police Ride Along (F&S)
Lug-A-Mug/Recyclable Mugs from Grounds Services (50)
10 caps/hats, 10 work gloves,  10 stubby screwdrivers and 10 Reusable Bags from Trades Services
Classic fire extinguisher from Fire Prevention Services (2)
And fabulous prizes from Ancillary Services featuring our branded bags, hats and water bottles
What a great way to end the summer and to start the school year!
Related posts